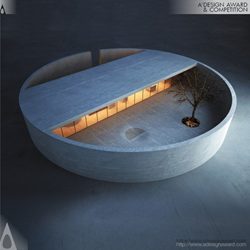 Como, Italy (PRWEB) May 30, 2014
A' International Design Award & Competition is pleased to announce that the project "The Ring" by Marwan Zgheib has been honored with the prestigious Platinum A' Design Award in Architecture, Building and Structure Design Category, picked as one of the winners by the internationally influential jury panel of the A' Design Award & Competition among thousands of other submissions.
About the Award Winning Work: The Ring
Marwan Zgheib, the designer of the awarded project The Ring explains "The proposed Ring House consists of a cylindrical volume embracing a rectangular one. The outer cylinder acts as a protective wall with a single narrow opening serving as the entrance, while the inside rectangle accommodates all the necessary house functions for the everyday life of the artist: a bedroom, a bathroom, a living room, a kitchen and an atelier. The interior space interacts smoothly with the serene outdoor atrium, a large terrace garden with one symbolic tree and a circular water feature." Learn more about this design: http://www.adesignaward.com/design.php?ID=29669.
The Platinum A' Design Award
The Platinum A' Design Award is a very prestigious award given only to top 1% percentile designs that demonstrate an exemplary level of excellence in design. Entries to A' Design Award are peer reviewed and anonymously voted by the 50-person jury panel composed of academics, architects and media members. Winning the Platinum A' Design Award provides six (6) points towards World Design Rankings and Designer Rankings.
About A' Design Award and Competition
A' Design Award and Competition is organized and awarded annually and internationally in all design and architecture disciplines to reach a worldwide, design-oriented audience. The ultimate aim of the A' Design Award & Competition is to promote good design practices and practices among general public. To learn more visit: http://www.whatisadesignaward.com.