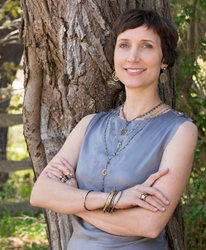 The opportunity to shop for handcrafted jewelry anytime, anywhere and on their favorite device.
Boston, MA (PRWEB) May 31, 2014
Metalsmith and jewelry designer Jenne Rayburn has launched a next generation eCommerce website to greatly enhance customer experience, providing the customer with the opportunity to shop anytime, anywhere and on their favorite device. "With the new jennerayburn.com, the business takes a step into the future with easy shopping in an inspiring environment," said Rayburn. "In order to stay relevant as a brand, you need to be where the customer is, and nowadays that is everywhere."
The design, messaging and the feel of the site was created to provide customers with more inspiration and an approachable design that makes shopping for jewelry and accessories easy and fun. The expanded eCommerce website introduces new designs for necklaces, earrings, cuff bracelets and rings with engaging stories about Rayburn's jewelry collections and design process. Beautiful photography on every page makes the website a delight to visit. The new website is fully responsive, which means the site automatically adjusts its size depending on the device being used, be it a desktop PC, mobile or tablet.
JSGD, a Boston design company that creates state-of-the-art websites for small businesses, was responsible for the development of the new site, and implemented Wordpress and Woo-Commerce, to create a user-friendly, visually sophisticated store design solution. The new eCommerce platform helps to enhance the shopping experience by allowing customers to save favorite items and share products through social media, and offers product pages with more filter options and a one-screen checkout system.
Capturing the right images of the jewelry was key to the website re-branding. Cynthia August Images, a commercial photographer located on Boston's North Shore, orchestrated the photo shoots to create vibrant photographs that celebrate Rayburn's unique style and jewelry. "Working with Jenne was fabulous," notes August. "Her pieces are overflowing with energy and feel like precious treasure found. Gorgeous!"
Visit Jenne Rayburn's jewelry and accessory collections at http://www.jennerayburn.com.
Visit Jenne Rayburn on Facebook http://www.facebook.com/Jenne.Rayburn.
About:
Jenne Rayburn is a Boston-based jewelry/textile artist who also studied interior design and architecture, and her work explores the convergence of architecture, design, technique and identity. Balancing the demands of a career and a growing family, Jenne is a mother, wife and daughter who designs for herself and all the women in her life who want to feel uniquely beautiful and powerful. It is her hope that the wearers of her pieces will find joy in a delightful artistic statement, and also something that enhances their individuality and confidence. Her work is suitable for wedding jewelry and is carried in local galleries and online.