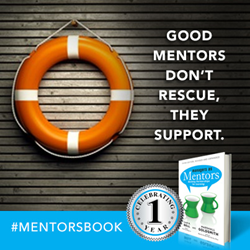 ...the must-read for leaders who value innovation, growth, and progress—all treasured byproducts of those learning organizations where leaders mine talent.
Lake Oconee, GA (PRWEB) June 03, 2014
The origin of the word mentor goes back to ancient Greece—specifically, to the character of Mentor in Homer's epic poem "The Odyssey." As Odysseus departs for the Trojan War, he leaves his trusted friend Mentor in charge of both the palace and the care and education of Odysseus' teenage son— a role that combined sensitivity and the sharing of wisdom. Combining compassion with wisdom is still very relevant today.
With more than 150,000 copies sold, "Managers as Mentors: Building Partnerships for Learning," Chip Bell and Marshall Goldsmith's classic guide to successfully combining these two interrelated roles has proven to be deeply influential among professionals in virtually every industry and leadership role.
Now, in honor of the first anniversary of the book's third edition, old fans and newcomers alike are invited to take part in a month-long celebration at ChipBell.com. Bell will share special blog posts throughout the month of June focusing on tips, techniques and tools for all leaders striving to be better mentors. During the month, 10 copies of "Managers as Mentors" will be given away at Chantal Bechervaise's Take it Personel-ly blog. Visit the blog for details and to register.
Vijay Govindarajan, Coxe Distinguished Professor at Dartmouth College's Tuck School of Business and coauthor of "Reverse Innovation," describes "Managers as Mentors" as "the must-read for leaders who value innovation, growth, and progress—all treasured byproducts of those learning organizations where leaders mine talent." Leadership guru Jim Kouzes called the book, "The essential handbook for all those who are trusted advisors to aspiring leaders."
Mike Krzyzewski, head men's basketball coach at Duke University and the 2010 NCAA champs, calls it "a practical yet powerful book."
Published by Berrett-Koehler Publishers Inc., the third edition of "Managers as Mentors" is available in print and Kindle formats from Amazon.com. A sample chapter is available for download by visiting this page on Bell's website. Buy copies to share with colleagues and join in the celebration.
Chip R. Bell is a senior partner with the Chip Bell Group and manages their office near Atlanta. Prior to starting CBG in 1980, he was director of management and organization development for NCNB (now Bank of America). Dr. Bell holds graduate degrees from Vanderbilt University and the George Washington University. He was a highly decorated infantry unit commander in Viet Nam with the elite 82nd Airborne. In addition to "Managers as Mentors," Bell is the author or co-author of several best-selling books including "The 9 ½ Principles of Innovative Service," "Wired and Dangerous," "Take Their Breath Away," "Magnetic Service," "Service Magic," "Customers as Partners" and "Managing Knock-Your-Socks-Off Service." He has appeared live on CNBC, CNN, ABC, Fox Business Network, Bloomberg TV and NPR, and his work has been featured in the Wall Street Journal, Fortune, Forbes, USA Today, Fast Company, Inc. Magazine, Entrepreneur Magazine and Business Week. A renowned keynote speaker, Bell has served as consultant or trainer to such organizations as GE, Microsoft, Marriott, Universal Orlando, Ritz-Carlton Hotels, KeyBank, Harley-Davidson, Cadillac, USAA, Verizon Wireless, Lockheed-Martin, Allstate, and Victoria's Secret.