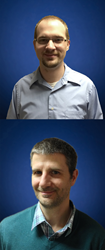 Clifton Park, NY (PRWEB) May 30, 2014
Annese & Associates, Inc., an integrated communications systems provider, is proud to announce that Peter Allen and Blake Maras have joined the Data Center Virtualization Practice as a Solutions Architect and an Associate Solutions Architect, respectively. Peter is based out of the Rochester office and Blake is based out of the Buffalo office. Both will report to Tom Gdula, Data Center Virtualization Practice Manager.
Peter graduated from Bowling Green State University with a Bachelor's degree in Visual Communication Technology. Prior to joining Annese, Peter worked for IDI Billing Solutions as a Storage and Virtualization Engineer, and as a Network Engineer for Thread Inc.
As a Solutions Architect, Peter will develop technical solutions and pre-sales deliverables in partnership with sales to address client and prospect needs relative to the Data Center Virtualization practice area. He will also be responsible for delivering well-defined business value to prospects and clients through the pre-sales process to drive the highest possible level of Annese branded service.
"I am very happy to join Annese," said Peter. "I am looking forward to collaborating with the team members to create innovative solutions. I feel right at home here."
Blake graduated from Villa Maria College in Buffalo in 2005 with a degree in Jazz Performance. Currently, Blake is enrolled in Wester Governors University, where he is working to receive a degree in IT Management. Prior to joining Annese, Blake worked as a Pre-Sales Solution Specialist and Tripp-Lite Champion at Ingram Micro, a strategic partner to Annese. Before Ingram, he worked as a Store Manager at a family-owned restaurant in Cheektowaga, NY, as well as a piano teacher at the U-Crest in the Buffalo area.
As an Associate Solutions Architect, Blake will develop Bills of Material and pre-sales deliverables in partnership with field-based Solutions Architects to address client and prospect needs relative to the Data Center Virtualization practice area.
"I am excited to start my new career here at Annese," said Blake. "I enjoy the open learning atmosphere and teamwork that Annese offers, which makes it an enjoyable place to work. I look forward to learning and growing with the team and taking on new challenges."
"Peter's hands-on experience running IT infrastructures makes him excellent at understanding our customers' needs and how to solve them," said Tom Gdula. "We are so excited to have him as an integral part of this team because of his experience, work ethic, and overall knowledge of our field. Blake is truly a great fit for the Associate Solutions Architect position," said Tom Gdula. "His fulfillment experience and research skills and effective problem solving abilities are already proving him to be a very valuable asset to this team."
About Annese & Associates, Inc.
Expertise. Relationships. Innovation. Throughout the past four decades, these principles have established the foundation upon which Annese & Associates has emerged as the trusted adviser to our customers, partners, and communities. With a full-circle approach to integrating communications systems, Annese wraps professional and managed services around Infrastructure, Collaboration and Data Center Virtualization solutions. Guided by our services methodology, we design an end-to-end IT experience for our clients, implementing the tools of today and administering a plan for tomorrow. Our business is the art, science, and passion of connecting devices to networks, people to people, and ideas to action.