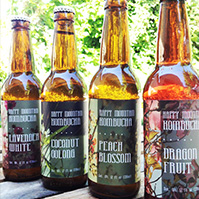 "This is the third time we'll be running our annual photo contest, after two competitive showings for the past two years," said AnneMarie Campbell, Director Business Development at Lightning Labels.
Denver,CO (PRWEB) June 03, 2014
Custom labels are often a very practical addition to a product, conveying important information such as product origin, materials and ingredients included, nutritional information and safety warnings. The best product labels are more than that, they are a canvas that can be used to showcase your brand and capture the interest of prospective buyers.
If entrepreneurs think they have designed a unique product label or custom sticker now is the time to show it off to the world in Lightning Labels photo contest! Lightning Labels, a custom label and sticker printing company, is announcing its third annual photo competition for current and past clients. Participants can submit their labels until June 28th for a chance at fame, glory and, of course, some great prizes. Voting on winners will take place in early July, with prizes including 40" flat screen televisions, Canon Cameras, Kindle Fires and thousands of dollars' worth of free custom labels.
"This is the third time we'll be running our annual photo contest, after two competitive showings for the past two years," said AnneMarie Campbell, Director Business Development at Lightning Labels.
"Not only does this competition give hard-working businesses the chance to get some recognition for their exquisite label design, they can also win prizes that may help their business operations in the near future in the process."
Share Product Labels Through Social Media
In addition to the prizes, the contest is a way for Lightning Label's customers to gain exposure of their own brand, while seeing what other companies are doing with their product labels. Voting for winners takes place directly on Facebook, enabling sharing across Facebook itself another social networks and blogs, including Lightning Label's Twitter and Pinterest pages. By entering the competition, companies may find themselves impressing new customers and discovering other business opportunities.
Research conducted by eMarketer found that photos are the most engaging type of content on Facebook, with an 87 percent interaction rate from fans. If winning some top-of-the-line consumer electronics and free custom product labels doesn't spark the interest of entrepreneurs, they should think of the additional brand exposure as well.
Submit Photos of Custom Stickers Today
With exactly one month to go, businesses should start preparing their custom sticker photos for entry today. The competition will be fierce, and if companies want to win the Canon - EOS Rebel T5i DSLR Camera or one of the other big prizes, they'll need to submit their best entry possible. Even if they don't win one of the grand prizes, participates will receive 15 off their next custom sticker or product label order, which can always be submitted to next year's contest!
About Lightning Labels:
Lightning Labels uses state-of-the-art printing technology to provide affordable, full-color custom labels and custom stickers of all shapes and sizes, and now offers a full line of custom packaging products. From small orders for individuals, to the bulk needs of big businesses, Lightning Labels is equipped to handle and fulfill custom sticker, label and product packaging projects of all types. Best of all, like the name implies, Lightning Labels provides a quick turnaround to every customers' labeling and product packaging needs. Uses for Lightning Labels' custom product labels and custom stickers include food packaging and organic food labels, wine and beverage labels, bath and body labels, and nutraceutical products, such as vitamins, essentials oils, and herbal remedies, as well as event stickers, adhesive window stickers and more. Lightning Labels strongly supports the development of environmentally friendly printing materials and carries EarthFirst PLA, a new kind of green label material made from corn instead of petroleum. While operating as a high-tech printer, Lighting Labels prides itself on its personalized customer service. Lightning Labels provides one stop shopping for all of your label and product packaging needs. For more information and to place orders online, visit LightningLabels.com. For the latest in packaging news and labeling promotional offers, find Lightning Labels on Twitter (@LightningLabels), Facebook, Pinterest, Google + and LinkedIn.