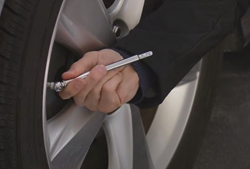 Lincoln, R.I. (PRWEB) May 30, 2014
Summer is a great time to travel with family and friends, and road trips are a fun way to see the sights. However, car trouble happens, especially when it comes to tires. That's why Amica Insurance is sharing five tips to help properly maintain tires.
The National Highway Traffic Safety Administration (NHTSA) reported nearly 11,000 crashes caused by blowouts or flat tires in 2013, which resulted in nearly 200 deaths. Amica is offering the following tips from the NHTSA to help promote tire safety this summer:

Check tire pressure regularly, at least once a month, including the spare tire. Over-inflation and under-inflation can cause flat tires, overheating and blowouts.
Regularly inspect tires for cracks, wear and punctures. Even small openings can lead to larger ruptures.
Ensure tire valves have valve caps so that air cannot leak out of tires.
Don't overload your vehicle. Check the owner's manual for its recommended maximum load weight.
Slow down if driving over a pothole or other debris in the road.
In the event of a flat tire or blowout, immediately pull over to a safe part of the road and call for assistance. If you choose to change the tire yourself, the owner's manual has step-by-step directions on how to do so.
Be sure to get tires repaired or replaced as soon as possible. Most manufacturers suggest not driving more than 50 miles on a spare tire, and to avoid driving at high speeds.
About Amica Insurance
Amica Mutual Insurance Co., the nation's oldest mutual insurer of automobiles, was founded in 1907. The company, based in Lincoln, R.I., is a national writer of automobile, homeowners, marine and personal umbrella liability insurance. Life coverage is available through Amica Life Insurance Company, a wholly owned subsidiary. Amica employs more than 3,200 people in 40 offices across the country.
CONTACT: Vince Burks, Corporate Communications, 50 Amica Way, Lincoln, RI 02865-1155, 800-652-6422, ext. 24563; vburks(at)amica(dot)com
Twitter: Amica
Facebook: Amica Mutual Insurance Co.