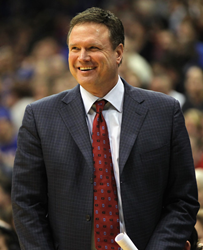 You don't have to have superpowers to make a difference in the life of a child. -Coach Self
Olathe, KS (PRWEB) June 02, 2014
KVC Health Systems, a national child welfare and behavioral healthcare organization headquartered in Olathe, Kan., will host its 3rd annual Hero Luncheon on June 19 at the Overland Park Marriott in Overland Park, Kan. The event is an exclusive opportunity to hear directly from University of Kansas head basketball coach Bill Self, who will share unique insights from the most recent season and inspire people about their potential to be a hero for local children.
In addition to the keynote speaker, the event will showcase KVC's Everyday Heroes monthly giving program. This program makes a tremendous difference in the lives of children by meeting essential medical, psychological and educational needs, as well making dreams such as violin lessons, summer camp or the perfect prom dress a reality.
"KVC and I both know you don't have to have superpowers to make a difference in the life of a child, and I am proud to be a part of this KVC event that celebrates heroes among us," said Self.
Individual tickets to the luncheon are $100, and sponsorship opportunities are available. Buy your tickets today at http://www.kvc.org/herolunch. For more information about sponsorship, contact Lauren Anderson at leanderson(at)kvc(dot)org or 913-322-4944.
###
About KVC Health Systems, Inc.
KVC Health Systems, headquartered in the greater Kansas City area, is a private, nonprofit 501(c)3 organization committed to enriching and enhancing the lives of children and families by providing medical and behavioral healthcare, social services, and education. KVC's diverse continuum of services includes foster care, adoption, in-home family therapy, behavioral healthcare, and children's psychiatric hospitals. In its 44-year history, KVC has grown since from a single Kansas home for boys to a national organization serving tens of thousands of children in five states and Washington, D.C. Due to KVC's leadership in the use of evidence-based research to achieve better outcomes and advance child welfare, the Annie E. Casey Foundation recently endorsed KVC as a best-practice organization. Learn more at http://www.kvc.org.