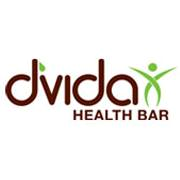 New York City, NY (PRWEB) June 02, 2014
d'Vida Health Bars are proud to announce their partnership with Custom Fit Meals, a fellow New York based business that delivers fresh, clean meals made only from the highest quality ingredients. As a result of this partnership, both of the d'Vida Health Bar locations in New York (11 Madison Avenue and 357 W. 49th St) will now be pick up locations for Custom Fit Meals customers.
d'Vida Health Bars are a one-stop shop for healthy on-the-go nutrition, offering functional shakes, yogurts, juices and baked goods, using only the best and freshest ingredients, so this new partnership with Custom Fit Meals is a natural fit.
"We are excited to announce our partnership with Custom Fit Meals! They are a company that is very much in line with d'Vida Health's mission, which is to provide fresh, nutritious and on-the-go meals, snacks and products that enable health and energy, and provide a fun and unique user experience," explains Mark Kozhin, founder of d'Vida Health.
Custom Fit Meals will create and deliver fresh, healthy meals prepared in a fully licensed, USDA-certified commercial kitchen by a team of culinary chefs to both of the d'Vida Health Bar locations weekly. Simply place your order on-line at CustomFitMeals.com by Tuesday each week to receive your meals for the following week of service. Their easy on-line ordering system allows you to choose the number of meals you want and the types of foods you like. Gluten-Free, Primal (includes dairy), Zone and Paleo meals are available. There are 15 menu items you can choose from each week (breakfast, lunch & dinner) and six weeks of rotating menus. Meals are sold in increments of five, with an average meal price of $9-10 per meal.
Custom Fit Meals' nutritional philosophy is based on eating real food – fresh, natural food like lean meats, vegetables and fruit. Much like d'Vida Health Bars, their meals are comprised of foods that are nutrient-dense, with lots of naturally occurring vitamins and minerals, as opposed to processed foods that have more calories but less nutrition. They use only USDA-certified all natural, antibiotic-free poultry, grass-fed beef, and pastured pork, and they source as much of their ingredients as possible from local sources.
Customers interested in trying Custom Fit Meals and having them delivered to d'Vida Health Bars for pick up can get 10% off their first order by using the discount code DVIDA.
About D'Vida Corporation
The d'Vida Corporation was formally founded by Mark Kozhin who was later joined by co-founder and nutritionist Milena Kozhin. Together with their expert knowledge in the health and wellness industries, they opened their first location inside 11 Madison Avenue (24th and Madison) in 2010 on the premise that the store would provide its customers with unique, healthy and functional grab and go products. d'Vida Health Bars offer fresh, nutritious products that enable health, vitality and energy including smoothies, fresh vegetable and fruit juices, yogurt parfaits, health foods and personalized package goods in a healthy and inviting environment. For more information please visit http://www.dvidahealth.com.
About Custom Fit Meals
Custom Fit Meals prepares and delivers fresh, clean meals made from only the highest quality ingredients. We specialize in Paleo meals that fit our Nutritional Philosophy. We use only USDA-certified All Natural, hormone- and antibiotic-free meats. Our beef is certified organic, grass-fed and grass-finished; our chicken and turkey are free-range and our pork is clean, and our produce is sourced locally. Our unmatched variety of meal selections allows you to personalize your menu to fit your lifestyle. This gives you the convenience you want, the portion control you need and the quality of ingredients you deserve; all at an affordable price. For more information please visit http://www.customfitmeals.com.