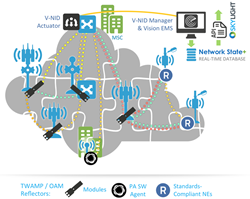 "With quality of service being a key differentiator for mobile operators, performance must be validated from the start, and carefully monitored as the network and traffic evolves," Scott Sumner, VP Solutions Marketing
London, United Kingdom (PRWEB) June 03, 2014
Accedian Networks, the Performance Assurance Solution Specialist, is now shipping the industry's first solutions employing Network Function Virtualization (NFV) and virtualized instrumentation to significantly accelerate small cell deployment and reduce the cost of ongoing operations. The solutions allow operators to automatically benchmark backhaul links as small cells are installed, then continuously monitor ongoing performance with programmable, zero-touch workflow orchestration.
Accedian is shortlisted for a 2014 Small Cell Forum Industry Award in the Technology & Deployment Enablers category. The company will provide live technology demonstrations at the Small Cell World Summit in London, UK, June 10-12, where winners will be announced.
The solutions, now being deployed at a number of leading operators, segment and cover the entire mobile and small cell backhaul network from core-to-edge, using right-sized instrumentation capable of Ethernet & IP layer service activation testing (SAT) and performance monitoring (PM).
Accedian platforms activate batch, scheduled or install-triggered backhaul turn-up testing directly from the service endpoint without an on-site technician or test set. The platforms then provision multi-flow, multi-vendor interoperable network performance monitoring spanning small cells, macro-cells, C-RAN and MSC sites. Eliminating blind-spots, Accedian smart SFP modules and test agents add NFV-based performance assurance capabilities to small cells lacking standards-based PM support.
This level of automation unblocks the OpEx issues hindering small cell deployment by enabling contractor or even enterprise end-user self-install. This eliminates lengthy on-site visits by technicians, extensive manual configuration, human error, results interpretation and much more, so small cells can be deployed in record time, consistently. In addition, the NFV-based architecture greatly reduces performance assurance CapEx compared to alternatives, while offering a unique open, multivendor view of ongoing quality of service (QoS) to detect issues and optimize performance in real-time.
Patented technology extends existing standards to deliver one-way performance metrics with sub-second granularity and microsecond precision. The SkyLight™ API interfaces this comprehensive, real-time QoS view with the existing monitoring, management and SDN platforms.
"With quality of service being a key differentiator for mobile operators, performance must be validated from the start, and carefully monitored as the network and traffic evolves," explained Scott Sumner, VP Solutions Marketing at Accedian, who was invited to speak at the Small Cell World event, "Our solutions amplify the small cell business case, helping operators cover critical operational aspects that would otherwise be left to chance due to cost constraints."
About Accedian Networks
Accedian Networks® is the Performance Assurance Solution Specialist for mobile backhaul & small cells, business services and service provider SDN. Open, multi-­vendor interoperable and programmable solutions go beyond standard-­based performance assurance to deliver Network State+™, the most complete view of network health.
Automated service activation testing and real-­time performance monitoring feature unrivalled precision and granularity, while H-­QoS traffic conditioning optimizes service performance. Since 2005 Accedian has delivered 200,000+ globally-­installed platforms, including 100,000+ assured cell sites.
Accedian.com