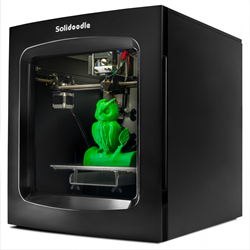 Brooklyn, NY (PRWEB) May 30, 2014
Brooklyn-based 3D printer manufacturer Solidoodle is discounting the Solidoodle 4 3D printer (Sd4) by $100 for Father's Day. Solidoodle's most popular 3D printer, the Sd4 offers hobbyist, tinkerer and tech-savvy dads with an 8" x 8" heated platform to print objects up to 512 cubic-inches. The Sd4's premium Solidoodle aluminum extruder (exclusive to the Sd4), and sleek powder-coated enclosure make it a great fit for the office, home, or man cave.
This is the first time the 4th Generation Solidoodle has been offered at a discount. The Sd4's superior design makes it an excellent option for the maker seeking a 3D printer built to last, with easy extruder maintenance and versatile application.
The Father's Day Special runs now through June 13th at store.solidoodle.com.
About Solidoodle
Solidoodle, founded in 2011 by aerospace engineer and 3D printing industry-veteran Sam Cervantes, builds accessible 3D printers for the consumer market. Built in Brooklyn, New York, more than 10,000 Solidoodle 3D printers have sold to customers around the world. For more information about Solidoodle, please visit Solidoodle.com.