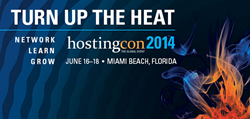 Houston, Texas (PRWEB) May 30, 2014
This June ServerMonkey will head to Miami Beach, Florida to exhibit at HostingCon, June 16-18. ServerMonkey, a leading provider of new and refurbished servers and networking and IT equipment, will showcase its products and services at the premiere industry conference and trade show for hosting and cloud providers for the second year in a row.
"HostingCon is a great event where IT hardware and software come together to share ideas, as well as, new products and services," says Andrew Madrigal, Asset Services Account Manager. "I'm really looking forward to seeing and meeting familiar faces."
ServerMonkey representatives will be available to answer questions about the benefits of Green IT and IT Asset Disposition throughout HostingCon at booth number 830. Detailed information about ServerMonkey's additional product and service offerings will be also available.
About ServerMonkey - Located in Houston, TX, ServerMonkey (http://www.servermonkey.com) buys and sells new and refurbished servers and networking equipment. With a blend of low prices, high quality, and exceptional service, ServerMonkey offers a unique opportunity for corporate IT groups to economize without compromising.
ServerMonkey also partners with large enterprise to sustainably handle decommissioned IT equipment. Reusing or recycling equipment is the environmentally conscious choice, and should be an integral part of any company's green initiative. An e-Stewards Enterprise and an 'A+' rated Better Business Bureau accredited company, ServerMonkey provides end to end solutions for asset disposition.
Contact:
Margo Evans
Marketing Manager
+1 713.430.2182
marketing(at)servermonkey(dot)com