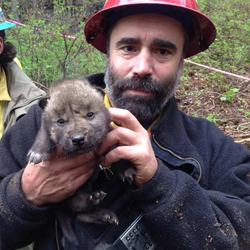 192,831 acres affected with 46% containment. Lots of progress on the fire line yesterday! - Kenai National Wildlife Refuge
Kenai Peninsula, Alaska (PRWEB) May 30, 2014
As summer approaches, thousands of visitors are preparing to visit Alaska. They should be relieved to know that the Funny Fire on the Kenai Peninsula is much closer to containment due to a light rain and cooler temperatures this week.
Fifty cruise ships are scheduled to bring visitors travel through the seaport at Seward, on the Kenai Peninsula in 2014. Many of those cruise ship passengers visit the nearby Kenai National Wilderness Refuge to hike, fish, go river rafting and look for wildlife.
Although approximately 192,800 acres were burned as of Thursday May 28, 2014, most summer visitors will not be affected. The burn area is primarily wilderness and down stream from the popular Kenai River Salomon fishing areas near Cooper Landing. Tourists planning to visit in then next few weeks should check current fishing conditions at the Alaska Department of Fish and Game website. As of today, the area is still affected by smoke.
While battling the fire, firefighters found a den of wolf pups that had been left behind as the fire advanced. The pups were alive, but dehydrated, injured and hungry. The medics removed some porcupine quills from them, gave them water and food. They are now in Anchorage awaiting permanent placement.
People still interested in booking a cruise to Alaska can visit TripTrist Travel Planner to search for cruises that still have availability for this summer.
The TripTrist Search Engine does what few others do – they put tour information from different worldwide adventure travel tour companies, side-by-side so that you can easily compare prices, dates and itineraries. Use the search feature to find just the right trip and contact the tour company directly to book.
Photo courtesy of the Kenai National Wilderness Refuge Facebook page.