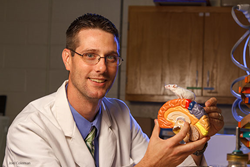 Lynchburg, VA (PRWEB) May 30, 2014
Liberty University Associate Professor of Biology Dr. Gary Isaacs and four of his former students received the J. Shelton Horsley award at the Virginia Academy of Science's Annual Meeting on May 16 at Virginia Commonwealth University in Richmond, Va. The award is the highest honor conferred by the academy for original research.
The team received the award for an article published in a recent issue of the Journal of Alzheimer's Disease.
"This is truly exceptional for students to be involved in this level of research as undergraduates," said Dr. David DeWitt, professor and chair of the Department of Biology & Chemistry. "For the study to be recognized with an award demonstrates the results of faculty and students committed to excellence in their endeavors."
Isaacs called Noor Taher ('13) the driving force behind the article. Taher just completed his first year of graduate school at Dartmouth University, where he is working on his Ph.D. Courtney McKenzie ('12), who has completed her second year of veterinary school at Virginia Tech, and Rebecca Garrett ('12), who is a lab technician at the University of Virginia, provided initial research at Liberty before Matthew Baker ('14), who will start medical school at George Washington University this fall, also assisted with experiments and the writing of the manuscript.
For the third year in a row, Liberty undergraduate students also received recognition at the meeting for best poster and best oral presentation in the biology/microbiology category.
Competition is not limited to undergraduate students; half of the submissions are from master's students, Ph.D. students, professors, and research technicians. Judges reviewed published articles, posters, and oral presentations from hundreds of students and faculty members from schools across the state.
Rising senior Amanda Hazy, working under Isaacs' supervision, won for her poster illustrating how genes being turned on and off in the brain can be analyzed using cells from blood samples as indicators.
Ryan Montalvo, who graduated May 10 with a B.S. in cellular and molecular biology, won for his talk on how laboratory, commensal, and probiotic E. coli adapts to the intestine and competes with the intestinal microbione. He received research direction from Associate Professor of Microbiology Dr. Andrew Fabich.
Hannah Drown ('14), a pre-med student who graduated with a B.S. in Biomedical Sciences, was also awarded honorable mention for her poster produced under the supervision of Fabich. Drown's research focused on the rise of novel antibiotic resistances by bacteria in the intestine. Cassandra Black, Abigail Lenz, and Matt Bingham also presented their research with Fabich about their work understanding how pathogenic E. coli causes disease.
DeWitt said the students' overall performance at the annual meeting was impressive.
"Repeated awards such as this are strong testimony of the quality of our program and our students in the Department of Biology & Chemistry," he said. "The equipment and resources that we now have available allow our students to be involved in biomedical-related research at a very competitive level."
The week after winning these awards, Fabich and Montalvo presented their research at the General Meeting for the American Society for Microbiology in Boston.
Last year, Isaacs received a $40,000 grant to continue his research, assisted by students, analyzing the chemical modifications found in the brain of mice affected by Alzheimer's disease. This study should be concluded by the fall semester and be ready for submission by the end of the school year.
When Liberty's new Science Hall, part of a $500 million campus rebuilding, opens for the 2015 spring semester, it will feature a state-of-the-art mouse research lab on the bottom floor.
"My job is to not only complete the projects we're working on now, but to think about the future, to develop an ongoing program," Isaacs said.
Beyond his students' Alzheimer's research, Isaacs plans to introduce a study on how diets affect the brain throughout the aging process.
About Liberty University
Liberty University, founded in 1971, is the largest private, nonprofit university in the nation, the largest university in Virginia, and the largest Christian university in the world. Located near the Blue Ridge Mountains on more than 7,000 acres in Lynchburg, Va., Liberty offers more than 350 unique programs of study from the associate to the doctoral level. More than 180 programs are offered online. Liberty's mission is to train Champions for Christ with the values, knowledge, and skills essential to impact tomorrow's world.