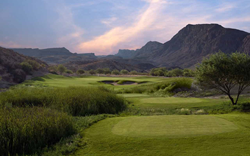 Lajitas, Texas (PRWEB) June 02, 2014
The Dallas Morning News voted Black Jack's Crossing at Lajitas Golf Resort the #1 Golf Course You Can Play in Texas.
"Since the course opened in 2011, Black Jack's Crossing has been delighting golfers from around the world," explains General Manager Ruffin Moore, "and we are honored to again be recognized as a top course by the Dallas Morning News.
"With activities the whole family can enjoy, from picturesque canoe trips on the Rio Grande River to world-class mountain biking and the relaxing Agave Spa, Lajitas Golf Resort is fast becoming a favorite return vacation destination."
Designed by golf superstar Lanny Wadkins, winner of the 1977 PGA Championship and eight-time member of the US Ryder Cup team, Black Jack's Crossing offers both a challenging and breathtaking course for all levels of golfers. In addition to recognition by the Dallas Morning News, Black Jack's Crossing was recently named "Number One Resort Course in Texas" by Texas Outside magazine and "Best New Course in Texas" by Golfweek magazine.
For more information about Black Jack's Crossing visit http://lajitasgolfresort.com.
ABOUT LAJITAS GOLF RESORT
Lajitas Golf Resort in the Big Bend area of Texas offers more than 100 rooms, suites, condominiums and houses with a variety of activities to suit every traveler from adventurous mountain biking and exciting cowboy action shoots, to family-friendly horseback rides and a relaxing spa; all in the high Chihuahuan Desert. Since 2011 Lajitas Golf Resort has been home to the Lanny Wadkins designed Black Jack's Crossing Golf Course - consistently topping lists of Texas golf courses - offering world-class golfing for novices and pros alike against the stunning backdrop of Big Bend and the Rio Grande River.