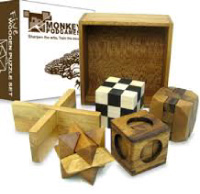 For Father's Day, break Dad's brains (in a good way)!
Westchester, NY (PRWEB) May 31, 2014
With Father's Day quickly approaching, finding meaningful, quality Father's Day gifts can be tough. What if you could give Dad something that would be fun and challenging, inspire creativity and play, and let him feel like a kid again? What if you could give Dad something that is modern, yet classic, that will stand the test of time and give him enjoyment for years to come? And, what if that something is good for his brain? Green Rainbow Revolution has the solution.
At Green Rainbow Revolution, you can find designer art and desk toys, brainteasers and puzzles - gifts for "kids of all ages" that will help Dad have fun and be good for him, too. Some neurobiologists suggest that "neurobics" can help people generate new brain cells and neural connections, and help them stay mentally fit.
"Dads work hard for their families all year long, and Father's Day is a great time to reengage, show that you care, and help dad be a kid again," said Leila Goldmark, Founder of Green Rainbow Revolution. "Dads just want to have fun, too."
With a wide variety of handcrafted, eco-friendly puzzles and brainteasers from top brands like Monkey Pod Games or Playable Art, Green Rainbow Revolution has toys to satisfy both critical-thinking problem-solvers and artistic, free-thinking, daydreamers.
"With superior design and craftsmanship, Dad will want to bring his toys to work and put them on display," says Goldmark. "And, every time he takes a break to play and engage in some productive mind wandering, he'll think of the family that gave him such a special gift."
In celebration of Father's Day and the families who love them, Green Rainbow Revolution is offering 30% off all orders over $30 through Father's Day (June 15, 2014). Shop online at http://www.GreenRainbowRevolution.com and receive same-day shipping to get gifts in a hurry, and use "GRReatDad30" at checkout to save.
###
Green Rainbow Revolution's mission is to provide the best product, cause no unnecessary harm, and use business to inspire and empower everyone to better our shared environment, creative arts, and diverse society – and have a heck of a good time doing it! GRR Founder, Leila Goldmark, is an environmental attorney, parent, and advocate. She founded Green Rainbow Revolution to help other parents find modern, eco-friendly, and safe products for their families and to inspire creativity, innovation, and purpose in youth through play.