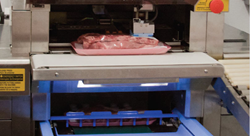 Rice Lake, Wisconsin (PRWEB) June 03, 2014
Rice Lake Retail Solutions will be at FMI Connect in Chicago, IL June 10th through the 13th to offer innovative retail solutions to nearly 15,000 participants as well as industry suppliers and experts. Experienced and knowledgeable Rice Lake Retail Solutions experts will have several featured products on display including the WM-Nano, WM-4000, and Uni-9, as well as slicers and grinders.
The world's first tabletop wrapper, the WM-Nano comes equipped with a color touch screen, integrated printer, LAN or WLAN communications, and is the ideal solution for grocers and markets with limited space. The WM-4000 wrapper is an ergonomically designed, fully automatic weighing, wrapping, and labeling system with industry-leading speed and a tray size photo recognition system with the ability to automatically adjust wrapping accordingly. The Uni-9 Series PC scale features unique marketing and cross-merchandising capabilities such as image, video with sound and product pairing promotions. Additional behind-the-counter functions include intranet access, recipe lookup, and video capability.
Visit booth 1015 at FMI Connect to learn more about Rice Lake Retail Solutions and what they can do for your business.
Rice Lake Weighing Systems is a family-owned, ISO 9001 certified corporation based in the United States. Headquarters, metrology laboratory and main manufacturing plant are located in Rice Lake, Wisconsin with support facilities throughout the world including North America, South America, India and the Netherlands.