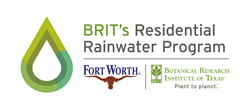 'BRIT looks for ways to help homeowners take care of their natural resources,' says Will McClatchey, BRIT's head of research. 'And, BRIT's Residential Rainwater Program does just that by providing a quality, low-cost method of rainwater harvesting.'
Fort Worth, Texas (PRWEB) June 03, 2014
BRIT and the City of Fort Worth are working hard this summer to help homeowners lesson the effects of the summer drought by offering to area residents the Rainwater Solutions' 50 gallon rain barrel for $75. Rain barrels can be purchased online with a credit card at http://www.rainbarrelprogram.org/britfortworth and can be picked up on Saturday, September 13, 2014, from 9 a.m. to 11 a.m. in the BRIT parking lot at 1700 University Drive.
Rain barrels collect rainwater from roof-tops by connecting to the home's downspout. This natural water would typically go unused and sent down the storm drain. The cumulative effect of rain barrels implemented throughout a geographic area can have a significant impact on storm water management and water quality. Water collected by the rain barrels can be used for gardens, lawns, and wash cars and pets. The use of one or more rain barrels can help area residents conserve water and lower monthly water bills.
"As a conservation organization, BRIT is continually looking for ways to help homeowners take care of their natural resources through the use of native plants and rainwater harvesting," says Will McClatchey, BRIT's vice president of research. "And, BRIT's Residential Rainwater Program does just that by providing a quality, low-cost method of collecting and distributing natural rain water for homeowner's use."
The 50 gallon rain barrels are made in the USA of 100% recycled plastic and feature a child-proof locking lid; bug-proof screen; a ¾" ball valve that easily connects to a garden hose; and two built-in overflow ports, one of which can be used to link additional barrels. All parts included and ready to set up.
Orders must be placed by noon on Sunday, September 7. A general delivery has been scheduled for Saturday, September 13 at the Botanical Research Institute of Texas, 1700 University Drive, Fort Worth, Texas 76107, from 9 am until 11 a.m. All who order rain barrels may pick them up at that time. For further information or to order a rain barrel, go to http://www.rainbarrelprogram.org/britfortworth.