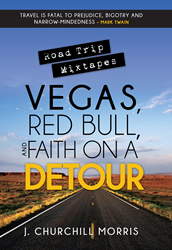 Nashville, TN (PRWEB) May 30, 2014
For many, summer means road trips. And long road trips can ruin a vacation faster than a hurricane at your beach destination. J. Churchill Morris, author of the new book "Road Trip Mixtapes: Vegas, Red Bull, and Faith on a Detour" (WestBow Press), is here to save your summer with five travel games you should be playing but probably aren't.
5 Road Trip Games for Your Summer Travel Adventures:
1. Broadway Bingo
The next time you are in an area riddled with tourists (even if you're one of them), this is a great way to take people watching to the next level. Make a list of 25 things you might see at a tourist destination. For example: The socks and sandals combo, a pack of "bros" (a group of guys who all look the same), a bachelorette party, a giant zoom lens camera on a non professional photographer… you get the idea. Make a grid in a five by five square, and try to get bingo. This game is perfect for teams or just two. SnapChat pics back and forth and be sure to share some tweets with #broadwaybingo. Losers buy the snacks at your next stop!
2. 50/50
This game is as simple as its name and is perfect for a day trip. The rules are simple: Find something from all 50 states within 50 miles of your location. Find some Maine lobster, Tennessee whiskey and Georgia peaches. License plates and sports team jerseys are always handy in a pinch. This is great game on the back roads and side streets of the road less traveled. Go explore!
3. #selfME
Part of the adventure of a road trip is meeting new people… especially those with a great story. So the next time you're about to take a selfie in front of the Grand Canyon or the Washington Monument, stop and ask a stranger if you can take a selfie of them or with them instead. Then, to get way out of your comfort zone, ask them for a 20 second preview of their story. Post their epic portrait with a descriptive caption on Instagram. Tag it #roadtripselfME and we can all make some new friends.
4. For the Record
Though the days of record stores are seemingly numbered, there are still great shops across the country. With the power of the internet in your hands, find one of these gems near your vacation spot or along the way. Ask the clerk if they have a local band section. You'll be so much cooler than your other friends with your new collection of "underground" bands and knowledge of the indie scene in Fargo or Jacksonville. If you're feeling really adventurous, go see one of these undiscovered sensations live if they are playing while you are in the area. Be a local for the night!
5. Thrift Shop Gift Stop
Forget postcards and magnets. And do you really need another shot glass? If you want a unique treasure to remember your trip by head to the local thrift shop. Because nothing says San Francisco like a lawn gnome and nothing reminds me of Dallas more than my semi-functioning speak and spell.
Now go!
Play. Travel. Adventure.
J. Churchill Morris' new book, "Road Trip Mixtapes: Vegas, Red Bull, and Faith on a Detour," is available wherever books are sold via WestBow Press, a division of Thomas Nelson. Morris is an Emmy Award-nominated songwriter and producer. Originally from Boston, MA, Morris now resides in Nashville, TN, where he works as a writer, speaker and visual artist. For more information, visit http://www.jchurchillmorris.com.
Watch the Road Trip Mixtapes book trailer:
http://www.youtube.com/watch?v=YvVpvung_eA