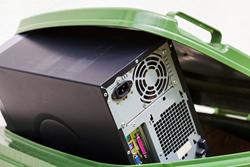 35 states have passed e-waste recycling laws.
Los Angeles, CA (PRWEB) May 30, 2014
As the college dorms empty and the high schools prepare to follow suit, millions of students, parents, and teachers are faced with a mountain of used technology items and a choice – keep, donate, or throw away.
While trusty laptops and favorite phones usually make the cut of items to be saved for the next school year, millions of burned-out monitors, broken printers, and outdated devices of all kinds will be disposed of to make room for new technology for the 2014-2015 school year. However, unlike traditional waste, these electronic items – or e-waste – contain potentially hazardous components, such as mercury, cadmium, and lead, which can leach into the soil and water supply if thrown into the trash for disposal in general landfills.
This is why 35 states have passed e-waste recycling laws, including: California, Connecticut, Hawaii, Illinois, Indiana, Maine, Maryland, Michigan, Minnesota, Missouri, New Jersey, New York, North Carolina, Oklahoma, Oregon, Pennsylvania, Rhode Island, South Carolina, Texas, Utah, Vermont, Virginia, Washington, West Virginia, and Wisconsin. In some of these states, such as Go Junk Free America!'s home state of California, it is illegal to dispose of e-waste in the regular trash. In other states, it is strongly discouraged. No matter where you live, it remains a fact that dumping these items into regular landfills can have a negative impact on the environment.
So what are the consumer's options when dealing with e-waste? Here are some easy ways you can clean your house or classroom without polluting your city:
1. Find out what the e-waste recycling laws are in your state. In some states, recycling is a matter of being a safe and responsible citizen. In others, it is a matter of being on the right side of the law. You can find out what laws apply to you at the National Center for Electronics Recycling.
2. Consider donating items that still work to a local charity or second-hand store, such as Goodwill or Salvation Army.
3. Drop off your items (working or broken) at any Sustainable Materials Management (SMM) Electronics Challenge partner, such as Best Buy, Staples, and many technology manufacturers. Visit the EPA.gov for more information on participating businesses.
4. Call a waste removal service that specializes in e-waste, such as Go Junk Free America! to both remove your old electronics and donate or recycle them for you. This is an especially good option if you have a lot of items, large bulky items, or electronics mixed in with a lot of other trash or debris that also needs hauled away.
At Go Junk Free America!, we know that education and responsibility go hand in hand. That's why we recycle or reuse over 80% of the items we pick up and encourage you to do the same. Whether it's an old cell phone, a cracked monitor, or a PDA you don't use anymore, recycling your few items now can pay great dividends later.
About Go Junk Free America!:
Go Junk Free America! provides eco-friendly residential and commercial junk removal services to the Greater Los Angeles Metro Area, including junk and debris hauling, dumpster rentals, spa removal, and e-waste collection. They recycle or reuse over 80 percent of the items they pick up.