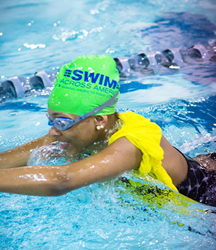 Morristown, NJ (PRWEB) June 01, 2014
The Peck School's eighth grade class donned goggles and swim caps for a grade-wide swim meet at the Greater Morristown YMCA on May 2, all in the name of cancer research.
They hosted their meet through Swim Across America (SAA), a foundation dedicated to raising money and awareness for cancer research, prevention, and treatment through swimming-related events. With the help of hundreds of volunteers nationwide and past and current Olympians, SAA is hoping to find a cure for cancer through athleticism, community outreach, and direct service.
The students chose to focus on cancer and cancer research for their final year in Peck's service learning curriculum (known as InDeCoRe, for Individual Development and Community Responsibility).
InDeCoRe begins in Kindergarten and continues throughout Peck's program. Each grade level is assigned a specific year-long topic to address through volunteer efforts, discussions, and projects—such as hunger, kids helping kids, or community protections such as police and fire—and the eighth grade chooses their own theme for their final year at Peck.
After hearing from guest speakers who have battled cancer either personally or through philanthropy (and sometimes both), as well as hearing from Craig Beardsley, the Pool Porgram Director for Swim for America, the students voted to hold their own meet to fight cancer.
Through pledges and donations from friends and family, the eighth grade raised a total of $26, 614.00 for Swim Across America. These funds will be used to subsidize cutting-edge cancer research, progressive survivorship clinics, and patient care and treatment.
"I'm incredibly proud of the dedication shown by our students—many of whom are not on swim teams or have ever swam competitively," said eighth grade advisor Chelsey Carr. "Nonetheless, they enthusiastically jumped into planning this fundraiser, securing donations, and, of course, into having a lot of fun at the YMCA pool!"
Click here for photos of the eighth grade Swim Across America meet.
The Peck School is a co-ed, independent, K-8 day school in Morristown NJ with a century-old reputation for academic excellence and emphasis on character formation. With a 6:1 student-to-teacher ratio, The Peck School strives to build in each student the capacity for disciplined learning and consideration of others, while preparing students to succeed in secondary school and to lead healthy, productive, and principled lives.
Visit The Peck School's website, or contact our Admission Office at 973-539-8660 x 117.