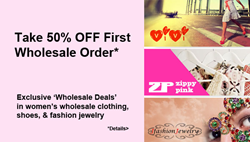 Our vendors are selling under their cost. It is another way of saying 'thank you' for trying the websites and they hope to get repeat buyers in the long run.
New York, NY (PRWEB) May 30, 2014
Fast Fashion Wholesale Magazine announced its '50% off Wholesale Deals' service. Unlike with retail, the wholesale industry earns only a slight profit, and if an online wholesaler offers 50% off, it is definitely below their cost and they lose money in the process. At the same time, online keyword advertising is very expensive for online wholesalers to keep pumping money into while blindly hoping for returns.
Fast Fashion Wholesale Magazine is offering a new 50% off deal so that new B2B buyers will save lots of money in order to try out new online vendors. Before purchasing their products, buyers have the option to browse online vendors' websites.
The deal-of-the-month special applies to wholesale sites listed at FastFashionMag.com on its Wholesale Deal page. Buyers can find discounted clothing, shoes, and accessories. Each gift certificate acts as a voucher. To activate the discount, enter the voucher number on the manufacturer's checkout page, or call the seller following an online order. Each deal can be purchased once a month.
Participating sites are available at the magazine's website, where wholesale fashion products eligible for discounts can be found. Visitors can submit their billing address and credit card information. Major cards, such as Visa, Master Card, or Amex, are allowed. Voucher numbers are distributed by email, and are usually valid for 30 days.
"Our vendors are selling under their cost. It is another way of saying 'thank you' for trying the websites and they hope to get repeat buyers in the long run," said Richard McDowell, a marketing manager.
Merchants can also be contacted by email or phone. Minimum purchase requirements may apply. Customers receive a 100-percent refund from Fast Fashion Magazine if there are any problems.
How to use 'Wholesale Deals'
Fast Fashion Magazine has a full line of women's wholesale fashion on sale, including apparel, accessories, fashion jewelry and shoes. Any retailer can buy $200 gift certificates at $99.99 (50% off) and use it on the wholesale site they choose at the time of purchase.
'Wholesale Deal' is a deal-of-the-month that features discounted gift certificates usable at participating wholesale sites through the FastFashionMag.com 'Wholesale Deals' page. Retailers can choose from many wholesale clothing, accessories, and shoes deals offered on the site. Discounted gift certificates come in the form of vouchers. In order to take advantage of the deal, enter the voucher # on the seller's checkout page or call the seller after ordering online. 'Wholesale Deals' are usually for online orders only. They cannot combine them with other wholesale deals, discounts, or coupons on the same order. The offer is limited to first-time buyers only.
For more details, visit http://www.FastFashionMag.com.
About Fast Fashion Magazine
Fast Fashion Magazine is a premier source of B2B fashion and accessories online. Targeting wholesalers and retailers, it lists hot fashion products and trends and includes many informational articles and advice in various categories. The magazine will be circulated to up to 50,000 wholesalers and retailers.