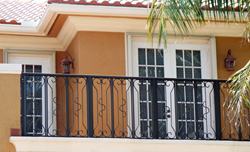 The Supernova Hurricane Shutter is the most cosmetically appealing accordion shutter available.
Pompano Beach, Florida (PRWEB) May 31, 2014
Assured Storm Protection (ASP) has been leading the Florida market in hurricane protection since 1980. ASP's mission is to provide consumers with the latest hurricane shutters that deliver longevity, exceptional performance, and affordability.
ASP has proudly announced that the Supernova Hurricane Shutter has passed their strict quality control guidelines and has been added to their lineup alongside the Bertha Accordion Shutter and Impact Technology Accordion Shutter.
The Supernova Hurricane Shutter is revolutionizing the hurricane protection industry! While maintaining all the current features of our other high quality hurricane shutters, the Supernova offers the most cosmetically appealing appearance due to its low profile design, tighter stacking blades, and impressive heavy duty closure channel.
Supernova Accordion Hurricane Shutter Features:

Noise Reduction – A felt track fit provides reduced rattling and vibration when the hurricane shutter is closed, providing a quieter environment in the home.
Smooth Gliding Wheels – The easy glide design offer an open and close operation with less effort.
Easy Lock With Failsafe – The shutter lock is easier to close and operate and a turn-knob provides a failsafe in the event of a failure.
Nylon Clips - Easy system operation, highly weather resistant, and low maintenance. Far superior to Velcro straps which offer tight fastening but are not weather resistant and require replacement.
Aluminum Locking Rods - Very secure system resulting in increased shutter strength.
Closure Channels – Eliminates screws that will rust or bend while being installed; a trait often found in less expensive shutter products that utilize light and flimsy angles, and is often the reason ASP's engineers disqualify new products that do not meet their standards.
Heavy Duty Construction – Constructed of heavy duty 0.50 gauge extruded aluminum blades (6 tensile strength), these shutters are also covered in hard long lasting nylon for the ultimate in impact protection. Stainless steel wheels provide additional performance and protection.
Fade Resistant Paint – ESP paint (powder coated paint) is used to offer a long lasting finish that resists fading over time.
Rain Guards – Provide protection from water penetration leading to additional maintenance and reduced shutter longevity.
Multiple Colors and Transparent Blades Available – Clear blades allow light in and are a great feature during a power outage. Other attractive colors are available including white, beige, and bronze.
Weather resistant parts – Shutter assemblies are made from diverse weather resistant parts. Wheels consist of a stainless steel housing and nylon rollers. Assembly screws are coated with a rust prevention additive. Locks and self-drilling screws are constructed of stainless steel.
Side Angle – The Supernova uses a 1/8" (0.125") aluminum side angle when needed for installations over a stucco band or uneven surface. This is generally twice the thickness of competing shutters (1/16" or 0.0625"), providing greater strength at the mounting point.
Exceeds Miami-Dade & HVHZ Requirements – Exceeds the Florida requirements for hurricane protection. By doing so, many homeowners experience a reduction in their home insurance costs while at the same time protecting their home and family in the event of a storm.
With the addition of the Supernova , Assured Storm Protection is the ONLY accordion shutter manufacturer in South Florida with three different hurricane shutters available. The Bertha Shutter provides a proven technology & dependable track record, while the Impact Shutter offers an economical option.
All hurricane shutters that are installed in a high velocity zone in South Florida are given a pass or fail grade and may be installed in Broward County and Miami-Dade County. All hurricane shutters are tested at 175 MPH and requires a large missile impact resistance at 50 MPH, along with a positive and negative pressure test at 9000 cycles.
Many shutter companies advertise a higher number to mislead consumers into believing that they are providing a stronger shutter, however all approved shutters undergo the same testing. The real difference in hurricane shutters is the cosmetically appealing design, the additional benefits listed above, and the quality of the workmanship provided by both the installer and manufacturer.
For a very limited time, ASP is offering the Supernova at the average installed price of ONLY $10.95 per square foot (terms & conditions at http://www.assuredwindow.com). Don't miss the best manufacturer direct price in 30 years.
Assured Storm Protection is a valued member of the Better Business Bureau with an A+ rating, and are recipients of the Angie's List Super Service Award in 2013, with a successful track record of excellence with tens of thousands of satisfied customers. ASP offers free no-obligation estimates along with evening and weekend appointments.