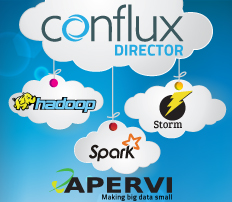 "Conflux Director™ with its intuitive features delivers the fastest Return on Data for enterprise customers looking to build big data applications be it batch, real-time or in-memory"- Siddu Tummala, CEO of Apervi
Irving, TX (PRWEB) June 02, 2014
Apervi, the provider of secure and intuitive big data orchestration platform, announces the availability of Conflux Director ™. Apervi releases its flagship product Conflux Director ™ that offers the first unified orchestration platform to easily build end-to-end big data workflows. The Conflux Director offers intuitive and user friendly interface supporting data at rest and in-motion over multiple big data technology platforms including Hadoop, Storm and Spark.
"Enterprise customers thinking about big data should take a look at the Conflux Director ™ before embarking on a journey to implement a custom big data application. Our customers realize an immediate return on investment (ROI) and return on data (ROD) from their big data investments by adopting Conflux Director ™. We are partnering with leading big data Infrastructure and technology vendors to provide end-to-end big data solution to our customers.", said Sridhar Tummala, CEO of Apervi, Inc.
When dealing with big data, the leading big data technology platforms like Hadoop, Storm and Spark all solve a multitude of challenges faced by enterprise. If big data adoption and existing data architectural limitations have been the challenges or bottleneck, you will find Conflux Director ™ extremely useful. Conflux with its seamless, secure and intuitive platform capabilities can simplify data migration between enterprise data platforms like Oracle, Teradata and the popular big data platforms.
Conflux Director ™ Key Capabilities:

Fully integrated and secure orchestration platform for addressing big data integration challenges
Unified execution engine with inbuilt support for Hadoop, Spark, and Storm.
Very small foot-print, cloud ready, and designed to run on virtually any Hadoop distribution
Powered by a highly scalable and optimized data processing engine
Design and execute your data processing pipelines on big data cluster computing systems with zero coding
Designed to coexist and interact with your existing enterprise infrastructure via standardized REST interfaces
Conflux also provides an open extensible framework offering industry standard REST API for custom application development as well as provide an extensible platform for easy integration with other products. Apervi is committed to encourage development of a vibrant partner ecosystem to further strengthen and extend the abilities of the Conflux Platform.
Customer Testimonials:
"Implementing our data workflows via Conflux on Cloudera has significantly reduced the latency from Hours to minutes and has expanded our ability to provide timely analytics in multiple dimensions for our customers "
-Vivek Chennamaneni CTO Netxcell
"Introducing Conflux Director to the mix for our Big Data project has freed up our development teams time to focus on the application more then worrying about the underlying Hadoop platform"
-Data Science Manager at a major GPO, Dallas TX
Pricing and Availability
Conflux Director is available today for deployment on-premise, in the cloud or as a single instance developer image. Pricing is a per server node subscription model. Pricing is available upon request - sales(at)apervi(dot)com
About Apervi Inc.
Apervi provides Big Data Integration products and solutions to the data driven and data intensive enterprises of today. Apervi is developing Conflux, a unified orchestration platform for big data technologies including Hadoop, Storm and Spark, making it easy and intuitive for its customers to leverage the power of these big data technologies from a common interface. Conflux makes Big Data Application development simple, secure and fast. Apervi's team consists of technology and data experts with years of experience in enterprise software, data management and analytics. Apervi is headquartered in Irving, TX and a development center in Hyderabad, India. For more information please visit http://www.apervi.com
Key resource links
http://www.apervi.com/products/conflux-director
http://www.apervi.com/products/conflux-director-plans
http://www.apervi.com/platform
http://www.apervi.com/solutions
Follow Apervi on Twitter : http://www.twitter.com/bigintegration
Join the Apervi community on Facebook: http://www.facebook.com/apervi
Join the Apervi Community on Linked in: http://www.linkedin.com/company/apervi-inc-