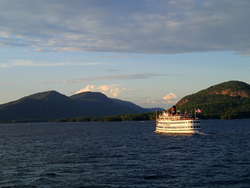 Lake George is without comparison, the most beautiful water I ever saw... - Thomas Jefferson 1791
Lake George, New York (PRWEB) June 03, 2014
The beautiful village of Lake George in New York's Adirondack Mountain region is bustling with Summer fun: and The Georgian Lakeside Resort has a great collection of Summer Vacation Packages and a guide to Lake George Summer 2014. Lake George itself is a leading attraction. Often called the Queen of American Lakes, Thomas Jefferson aptly described Lake George in a letter to his daughter in 1791...
"Lake George is without comparison, the most beautiful water I ever saw; formed by a contour of mountains into a basin... finely interspersed with islands, its water limpid as crystal, and the mountain sides covered with rich groves... down to the water-edge: here and there precipices of rock to checker the scene and save it from monotony."
The 32 mile long lake has miles of undeveloped shoreline, unique mountain hikes, and over 300 islands. It's no wonder that lake cruises are one of the most popular attractions in Lake George. Both Shoreline Cruises and The Lake George Steamboat Company offer cruises ranging from one hour tours to a 5 hour cruise on the lake. For more "on the lake" activities like kayaking, boat rentals and fishing visit the Georgian Resort Activity and Attractions Guide.
Summer 2014 in Lake George is bustling with events, festivals and live music all season long. Shepard Park in the heart of Lake George Village is home to many festivals, arts and crafts shows, kids events and concerts. The popular Summer Concert Series produced by the Lake George Arts Project takes place in Shepard Park on Wednesdays in July and August. This year's schedule is at the Lake George Arts Project website. For more music take in the Lake George Music Festival, featuring great classical music concerts. The Festival is held this Summer August 14-21 at various venues around Lake George. Shepard Park is also home to the weekly fireworks show held every Thursday at 9:30 during the Summer. The Georgian Resort patio and Cabana Bar are center stage for the the fireworks show with live music on the patio every Thursday. For more events and happenings visit the Lake George Guide website.
Outdoor activities and attractions are a big part of Lake George Summer fun. For the the most comprehensive directory of activities and attractions including a great hiking guide with maps downloadable to your phone visit the Georgian Resort website.
Kids love Lake George, and a big reason is the close proximity to the Six Flags Great Escape amusement park, just to the South of Lake George Village. The park is open daily and it is early enough in the year to consider a season pass - easily the best value especially if you plan on a return visit to Lake George. Lake George is also home to many arcades, miniature golf courses, games and rides. But there is also some exciting and educational venues with children's programs all Summer long. Consider the Up Yonda Farm in Bolton Landing (10 miles from Lake George), The Lake George Association's Floating Classroom, with weekly cruises, and both Fort Ticonderoga and Fort William Henry with great kids events and activities.
Lake George is centrally located in the Adirondacks with easy access to many natural attractions like Ausable Chasm and Natural Stone Bridge and Caves; and other "must see" attractions, like The Adirondack Museum, The Wild Center, and Gore Mt. in North Creek. Visit the Georgian website for more information on activities and attractions near Lake George. Or call for information: 518-668-5401 or 800-LAKE GEORGE (800-525-3436).