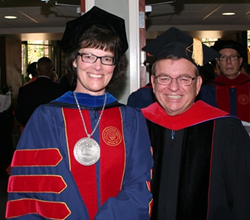 Dayton, OH (PRWEB) May 31, 2014
United Theological Seminary (United) hosted its 140th commencement service on Friday, May 23, 2014, at Ginghamsburg United Methodist Church in Tipp City, OH. Twenty-seven masters degrees and 42 doctoral degrees were awarded and 16 special student awards were given.
Guest speaker for the event was Dr. Ted Sauter, senior pastor of North Naples United Methodist Church, North Naples, FL. He graduated from United in 1972 and was ordained in 1974. A native Floridan, he has been appointed to churches in Daytona Beach, Lakeland, Jacksonville, Tampa and Hollywood before his assignment to North Naples UMC in 1992.
United Theological Seminary, now in its 144th year, is one of the fastest growing theological schools in the United States. It was founded in 1871 by Milton Wright, a Bishop in The United Brethren Church and father of Wilbur, Orville and Katherine Wright. United offers accredited, innovative graduate and non-degree education programs for both clergy and laity.