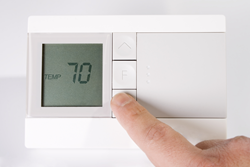 Many homeowners don't realize they may be their own worst enemies when comes to the electric bill.
Humble, TX (PRWEB) May 30, 2014
While summer won't officially start for another few weeks, the summer heat is already here, causing home owners to shut their windows and turn on their AC. But more even more uncomfortable than the temperature for many is the increase in their electric bill – a financial shock to the wallet that often packs more of a punch than it should.
What the crews at Kingwood Air Repair have discovered, is that many homeowners don't realize they may be their own worst enemies when it comes to the electric bill. Fortunately, there are some easy remedies that can make every day – including the one the electric bill is due – more bearable.
1. Landscape Your Yard
One of the most fun, attractive, and eco-friendly ways to save money on your air conditioning is to give your unit some natural help. Shade trees can dramatically decrease the temperature in your home by sheltering your roof from the sun, causing you to run your AC less often. While new trees take time to grow, you can boost your air conditioner's performance almost instantly by providing shade just to the outdoor condenser unit. According to the Department of Energy, this can boost your unit's efficiency by up to 10%.
2. Cut Back the Bushes
While shade is beneficial, landscaping features that crowd the condenser unit, such as bushes and tall grass, can impede airflow, making your unit work harder to achieve the same temperature. Make sure there is at least a foot of space around the unit for best performance.
3. Install a Programmable Thermostat
One of the biggest wastes of energy families often face is in keeping the house cool when no one is home, or at night when the outside temperature drops. But waking up in a steamy bedroom or coming home from work to a sweltering house can be difficult, especially when it can take some time for your AC to recreate a comfortable climate. One solution to this is a programmable thermostat, which you can set to start cooling your home in advance of your return or before your morning begins.
4. Run Your Fans
What some homeowners don't realize is that most thermostats include the option to run a fan in addition to your AC. This fan should usually run on "high," except when the humidity is high. By keeping the air circulating, heat is transferred away from your skin, keeping you more comfortable at warmer temperatures. Window and ceiling fans can also help with this, and running them is less expensive than decreasing the overall indoor temperature.
5. Reduce Radiant Heat
The warmer your house is, the harder your air conditioning has to work to cool it. Therefore, keeping your curtains or blinds closed on the sunny side of the house, installing awnings, and putting solar screens or tinted films on your windows to keep your house cool is another excellent way to decrease your bill.
6. Consider a Zone System
Zone systems allow you to control the temperature of each area of your house individually, so you can avoid cooling rooms you aren't in. This is especially helpful at night, when the bedrooms are the only rooms that need to be kept comfortable.
7. Upgrade to an Energy Efficient AC Unit
Not all air conditioning units are created equal. Older models are notoriously inefficient and can cost you hundreds of dollars every summer. If you know your unit is old or aren't sure when it was last upgraded, consider installing an Energy-Star certified product or a comparable unit with a high SEER (seasonal energy efficiency ratio) number.
8. Maintain Your Air Conditioner
Finally, remember that your air conditioning unit is a machine, and like all machines, it needs periodically maintained. Changing your air filter and cleaning your condenser coils regularly is essential for peak performance.
By keeping your home as cool as possible and your air conditioning unit up-to-date and well-maintained, summer doesn't have to be an uncomfortable season. In over 20 years of service, Kingwood Air Repair has seen these techniques work for hundreds of people. So if more than the heat is making you sweat, don't worry! You can take control of your electric bill starting this summer.