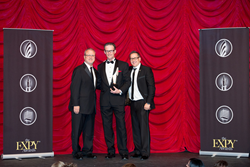 Receiving an EXPY has got to be one of the biggest highlights of my career.
Virginia Beach, Virginia (PRWEB) May 30, 2014
The National Association of Experts, Writers & Speakers has honored writer, director, producer, and business and marketing expert, Kevin Neff, with The Writers' EXPY®. Kevin was awarded for his contribution to the book, "The Secret to Winning Big, Leading Experts Reveal Their Strategies for Winning Big In Life and Business." The book was co-written with noted business development expert, best-selling author and speaker, Brian Tracy.
On the day of release "The Secret to Winning Big" reached best-seller status in five Amazon.com categories — the book reached best-seller status in the Direct Marketing, Marketing, Entrepreneurship, Marketing and Sales, Small Business & Entrepreneurship categories.
The premier EXPY® Awards gala was attended by a string of successful experts, writers and speakers from all over the world, including well-renowned Brian Tracy, Dan Sullivan of Strategic Coach and Kevin Harrington from Shark Tank and "As Seen On TV." The awards ceremony was conducted by three-time Emmy Award Winning Director Nick Nanton and Emmy Award Winning Producer JW Dicks.
The National Association of Experts, Writers and Speakers (NAEWS) was founded to honor experts for their contribution to education, enlightenment and business.
Kevin Neff founded his Virginia Beach, Virginia contemporary marketing and consulting firm, The KPN Group, based on his "Smart Marketing™" and "Blunt Force Trauma Marketing™" techniques. He is considered to be a specialist in R.O.I. marketing strategies and tracking technologies. Kevin is also a successful public speaker with an uncanny ability to mentor, motivate and educate, all within the same message. He is able to present his knowledge to business owners of all sizes with remarkable clarity and sound understanding of how, and where, to reach people.