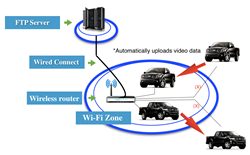 This feature has been asked for by our majority of our customers. - VP of Operations, Jeff Stoker
Belleville, MI (PRWEB) June 01, 2014
Since the release of the UCIT in October of last year, and the added GPS Tracking suite in January, the demand for the UCIT has greatly increased. Though successful, customers have asked about WIFI upload capability. This WIFI option, available with the passive cameras, was not available on the UCIT. When customers wanted the entire day's worth of video, they would have had to either been watching it live, or recover the flash card from the DVR once the vehicle was back at base. Customers wanted the convenience of not having to worry about going out in each and every vehicle to recover what they missed. We have answered, the UCIT PRO has the capability of WIFI uploads. A driver finishes for the day and returns to base. Once in WIFI range the video will automatically start to upload to their company's secured server for review at a later time. Being that the UCIT is a continuous recording device the process starts all over again the next day.
Fleet managers interested in improving their fleet as well as driver performance can visit http://www.safetytrack.net or http://www.safetytrackcam.com. For product pricing, as well as leasing options, please contact Nick Thacker at 888-286-9829. Safety Track is an international GPS provider, so no matter where you go, you'll always be covered.
About Safety Track LLC:
Safety Track, a woman and family owned business, was established in late 2002 in a local family basement. Throughout its growth, now reaching international status, Safety Track is committed to keeping that 'mom and pop' feel by making customers their top priority. Safety Track helps businesses and fleet owners alike maintain control over their vehicles; whether it's with in vehicle cameras, GPS or a combination of both. While striving to make running a fleet easier, Safety Track's top priority it to promote safe driving habits, not only for fleet drivers, but for drivers everywhere.