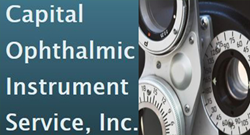 Gulf Shores, Alabama (PRWEB) May 30, 2014
Capital Ophthalmic Instrument Service, Inc. (COIS) based in Dawsonville, Georgia proudly announces the opening of their second location. COIS new location in Gulf Shores, Alabama will serve ophthalmic professionals of the Florida panhandle, Southern Alabama and Southeastern portion of Georgia. The company specializes in sales and service of ophthalmic equipment. For over forty years, the principals of COIS have been selling and servicing equipment for the ophthalmology and optometric vision professional.
The vision professionals will benefit by this location because of faster response time and lower cost due to travel times. Thelma Streib (owner of COIS) says, "Our new location will decrease cost and will be a win-win for our customers."
Services Offered:

Factory trained technicians for ophthalmic repairs for most instrumentation
Onsite Repair
New office floor plan consulting
Fair market value evaluations of ophthalmic equipment
Help with new and refurbished ophthalmic instruments
Preventive maintenance programs
Take trade-ins and will purchase used equipment
For more information on Capital Ophthalmic Instrument Service, Inc., visit http://www.ophthalmicinstruments.org or call Dale Streib (Sales) at 770-231-5418.