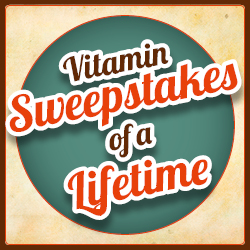 This is the biggest prize package we've done yet...
Hobart, IN (PRWEB) June 02, 2014
Botanic Choice, a 104-year old herbal supplement company, announces a new sweepstakes. In the past, contests have been a hit among new and existing customers, and the company is encouraged by the enthusiasm for another sweepstakes.
The "Vitamin Sweepstakes of a Lifetime" will feature the largest prize package to date. The Grand Prize will be three-years of the winner's choice of vitamins, supplements, herbal remedies, and beauty products. The winner will receive a $500 gift certificate each year for three years. Moreover , twelve randomly selected winners will receive $50 worth of free products of their choice as part of a weekly drawing.
All entries will immediately receive a free one-time-use coupon for 15% plus free shipping on orders over $15 on their next purchase. They will also qualify to receive additional special offers and health updates via email. Contestants can be any 18-years of age or older and no purchase is necessary. Contest ends August 31, 2014.
Tim Cleland, President of Botanic Choice, declared, "We wanted to really let our customers know we appreciate their coming to our site and doing business with us. This is the biggest prize package we've done yet, and the best "thank-you" offer to date as well! It's just our way of saying thanks to all who participate. Good luck to everyone!"
About Botanic Choice
Indiana Botanic Gardens, Inc. is a leading provider of more than 500 high-quality nutritional supplements, including exclusive formulas Opti Gold™ for vision health, Thyroid Complex™ to promote thyroid health, and Advanced Apple Cider Vinegar Plus with Green Tea (ACV Plus®) for weight loss support. Their line of vitamins, herbal remedies, and beauty care products are sold through their catalogs, web site http://www.BotanicChoice.com, and retail store at 3401 West 37th Ave, Hobart, Indiana (800-644-8327).