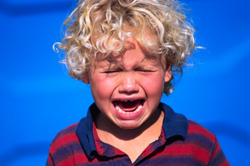 Parents can help teach children how to express their worries during the day to prevent sleep disrupted nights
New York, New York (PRWEB) May 31, 2014
Bullying can negatively impact a child's health and well- being in many ways. It's deleterious effects can leak into a child's ability to achieve peaceful slumber. An article that came out in Medical Daily on May 3, 2014 indicated that 36% of kids with sleep problems may be victims of bullying. Ancy Lewis, Gentle Sleep Coach and founder of Sleeping Little Dreamers, discusses ways parents can help children release their anxieties from the day reducing their risk of playing out their frustrations in their sleep.
Lewis explains that children need help expressing their emotions and worries. They often "act out' when they are feeling stressed rather than discuss what is bothering them. This is where parents can come in as teachers that encourage and support proper expression of emotions. "Parents can influence children to talk about what is on their mind," says Lewis.
Lewis believes that when parents promote daily interactions with their child that include discussions about emotions and how to handle them, children are less likely to carry their worries into their sleep.
Here are some tips that Lewis suggests that can set the stage for good communication and help avoid night time issues:
1. Encourage conversations about your child's day: Children often respond with a blank look or an "I don't know" when parents ask them what they did in school today. In order to get the conversation rolling, ask about specific aspects of the day. "What did you do in gym class"?, "What was the best part of school today"?, "What games did you play today"? etc. When it is more specific, it is easier for children to come up with answers. By fostering this communication on a daily basis, and parents showing true interest, children will eventually express what didn't go well. Parents can then process this with their child.
2. Use the power of the bedtime routine: The 20-30 minutes before lights out can be a time of real connection between a parent and child. If bedtime routines are calming and consistent, children tend to feel more relaxed. They may often feel comfortable enough to express what is bothering them and not carry it into their sleep. Bedtime routines also help a child unwind after a stressful day.
About Sleeping Little Dreamers:
Sleeping Little Dreamers is devoted to providing Sleep Coaching services to parents of children ages 6 months to 6 years with sleep issues. Owned by a social worker, Sleeping Little Dreamers offers individualized sleep consultations that address the needs, values and parenting philosophies of each family. Sleep consultations can be done by phone with parents all over the world, or in person for those in the Westchester County, NY area. With the collaboration and support of Sleeping Little Dreamers, parents have either experienced vast improvements in their child's sleep or a complete resolution of sleep issues. For more information, please visit http://www.sleepinglittledreamers.com.