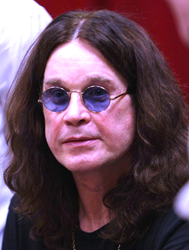 Preventing an infestation in the first place is the most cost-effective, humane, environmentally-responsible, and by far simplest solution.
Chicago, IL (PRWEB) May 31, 2014
Multiple celebrity news sources recently reported that Ozzy Osbourne's Buckinghamshire, England estate is infested with bats, requiring an estimated £300,000 (or $503,220) in repairs (source). While readers may think "karma is a b!*#ch" for the man made famous for biting the head off a bat, these infestations are a common complaint every season in late spring/early summer – Bird-X explains why.
Throughout the world, many bat species migrate much the same way as birds – these nocturnal mammals migrate when food is scarce, and return to the same location when the abundance of food returns. Migrating bats seek quiet, dark places for shelter during the daytime hours, and more and more frequently, this means peoples' homes.
Ozzy's bat infestation is reportedly in his barn; a very common location for residential bat infestations, though it's also very common for bats to infest home attics, underneath roof tiles and overhangs, and other areas with an opening to a dark, enclosed, quiet space. Ozzy is reportedly waiting out the repairs from a substantially safe distance in Los Angeles, California which is understandable; bats can be very dangerous to humans – carrying many diseases including rabies, the ebola virus, and be hosts to ticks which can cause Lyme disease. Bat guano (feces) can also present disease, odor, and fungal problems.
Bird-X's President Dennis Tilles stresses that, "Preventing an infestation in the first place is the most cost-effective, humane, environmentally-responsible, and by far simplest solution." The Ultrason X and Transonic PRO are electronic deterrents that bats are especially responsive to, as they upset their echolocation abilities and keep them far away from treated areas, while staying silent to most humans.
If an area is especially bat-prone, such as a space that has been infested by bats in the past who habitually return, a tightly-woven bird netting approved for use with bats is 100% effective when installed properly – Bird-X's Standard or Premium BirdNet are both routinely used for use with bats.
Bats are heavily protected by law worldwide, including the United States and the United Kingdom. In many areas, depending on the time of year, bats may not be disturbed at all once they have settled into a place. Bats are extremely important to the environment, devouring literal tons of insects and saving crops from devastation. Taking this one step further, an action that's been picking up a lot of steam this spring is building homemade bat houses. Alternative bat homes not only encourage bats to stay out of unwanted spaces, they provide much-needed shelter to these important animals. The National Wildlife Foundation offers excellent instruction for a DIY bat habitat.
Bird-X, Inc. is the leading brand of humane pest bird control worldwide since 1964, and is dedicated to protecting human health, wildlife and the environment in which we all live. The Chicago-based company manufactures a complete line of unique pest control products with an unmatched focus on quality, efficacy, and customer service.