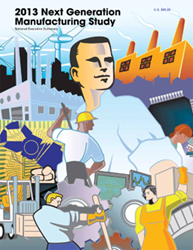 Peoria, IL (PRWEB) May 31, 2014
The Manufacturing Performance Institute (MPI), part of The MPI Group, in coordination with the American Small Manufacturers Coalition (ASMC), and the Illinois Manufacturing Excellence Center (IMEC) has unveiled the Next Generation Manufacturing (NGM) Assessment Tool to help identify and measure strategic benchmarks in key areas of manufacturing businesses.
The NGM Assessment Tool offers a quick and free mechanism for manufacturers to search and benchmark their progress toward world-class status by comparing their responses to the thousands of former NGM Study participants. Based on six NGM strategies, the assessment tool provides manufacturers a foundation for strategic planning by identifying opportunities and insight for improvement. Strategies measured include:
Customer-Focused Innovation: Develop, make, and market new products and services that meet customers' needs at a pace faster than the competition.
Superior Processes/Improvement Focus: Record annual productivity and quality gains that exceed the competition through a company-wide commitment to continuous improvement.
Human-Capital Management: Secure a competitive performance advantage by having superior systems in place to recruit, hire, develop, and retain talent.
Supply-Chain Management and Collaboration: Develop and manage supply chains and partnerships that provide flexibility, response time, and delivery performance that exceeds the competition.
Sustainability: Design and implement waste and energy-use reductions at a level that provides superior cost performance and recognizable customer value.
Global Engagement: Secure business advantages by having people, partnerships, and systems in place capable of engaging global markets and talents better than the competition.
The NGM Assessment tool is completely free to all manufacturers and is based off the NGM Study conducted in 2009, 2011 and 2013. The NGM Study surveyed thousands of U.S. manufacturers nationwide. To access past survey results, visit the IMEC website at http://www.imec.org/publications.cfm. To get started with the NEW Next Gen Tool, visit: http://www.NextGenMfgTool.com.
###
About IMEC: IMEC was established in 1996 with the goal of improving the productivity and competitiveness of Illinois' small and mid-sized manufacturing firms. The organization's mission is to be a catalyst for transforming the state of manufacturing. A non-profit economic development organization, IMEC is funded in part by the National Institute of Standards and Technology's Manufacturing Extension Partnership, the Illinois Department of Commerce and Economic Opportunity, and through fees paid by Illinois manufacturers for IMEC's services. IMEC has 11 offices statewide and 40 full-time manufacturing improvement specialists. For more information, visit http://www.imec.org.
About The Manufacturing Performance Institute (MPI): MPI is known globally for the MPI Manufacturing Study and the Next Generation Manufacturing Study. We leverage data from these studies to provide insights and benchmarking opportunities to manufacturers worldwide through our benchmarking tools. We also provide data from these and other proprietary studies to help clients deliver thought leadership from a respected, third-party source.
About American Small Manufacturers Coalition (ASMC): ASMC is a trade association of manufacturing extension agents whom work to improve the innovation and productivity of America's manufacturing community. ASMC advocates for legislative and programmatic resources that allow its small manufacturing clients to better compete in the global marketplace. For more information, visit: http://www.smallmanufacturers.org/.