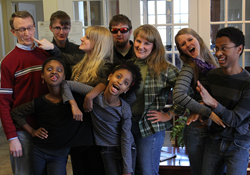 . "Danielle and I have different areas we want to pursue and we'll still work together when we can," said Julie.
Gray, TN (PRWEB) May 30, 2014
It took her three tries, but Julie Voudrie persevered to make the finals of TLC's "Next Great Baker," whose fourth season begins Tuesday, June 24. The key to making the final cut after two near misses? The show allowing teams to enter, which prompted Julie to invite her daughter Danielle to join her in the audition. The pair ended up being the only mother-daughter duo in the finals.
Julie, 47, had tried out for seasons 1 and 2, saying, "I missed the final cut by just a hair, but it was a wonderful experience." She did not try out for season 3, but when it was announced that season 4 would be a team competition, Julie asked Danielle to join her. "It was a tough decision," said Danielle, who had to take a semester off college and put wedding plans on hold, "but when we got the call that we'd made the show, it was all worth it!"
Making the finals of "Next Great Baker" was about more than years of effort to appear on the show for Julie. She also pursued the dream to honor her mother, who she said "was the one who got me into the kitchen at a young age and she liked to dream big." Now, she is passing on that knowledge of baking to her daughter, which just adds to the thrill of achieving the outlandish goal of being one of the best bakers in the entire country. "To get to compete alongside my daughter made it even more special," Julie said.
Julie's mother impacted Danielle as well. "Granny let me help her in the kitchen and we loved watching cooking shows together," she recalled. Ironically, one of the shows featured "Mr. Chocolate," Jacque Torres, now a judge on "Next Great Baker." "I think I made him feel like an old man when I told him I watched him when I was little," Danielle reported.
Mom and Daughter Voudrie, known as "Team Pink,"cannot reveal the results of the competition, but will say that they thoroughly enjoyed the process. "The judges were great," said Julie, "The guest judges were tough, but fair, and so helpful after the taping to give advice and encouragement." She cited Bobbie Lloyd as a particular inspiration after interacting with her. "To see a strong woman like her experiencing so much success in the culinary world was inspiring to both Danielle and me."
Danielle agreed about the thrill of the competition: "It was very intense, but it's an experience we'll never forget. We met such amazing people, both fellow contestants and crew, and we were able to do some amazing things."
Now, the two women hope to continue to do "amazing things" as they each ramp up their cake businesses. "Danielle and I have different areas we want to pursue and we'll still work together when we can," said Julie, who said that her time on the show further motivated her to seek a wider platform to share other talents. "I've always had a desire to move into more public speaking and also to share my music with a wider audience," she said. "Both Danielle and I plan to do more cakes, but we also love television and media and we hope doors will open there as well."
The world has probably not seen the last of this talented mother-daughter duo. For more information on either of these women and their latest exploits, follow Julie here and Danielle here.
Contact Info:
Julie Voudrie
105 Keeview Ct. Gray, TN 37615
423-741-6366
http://www.bakingwithjulie.com