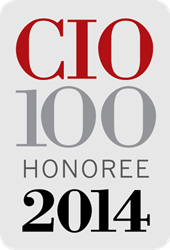 By integrating marketing communications and information delivery, we've developed creative, customer-focused solutions designed to build strong customer relationships.
Grinnell, Iowa (PRWEB) June 02, 2014
IDG's CIO magazine today announced Grinnell Mutual as a recipient of the 2014 CIO 100. The 27th annual award program recognizes organizations around the world that exemplify the highest level of operational and strategic excellence in information technology (IT). Grinnell Mutual is recognized for integrating brand marketing and advertising with the company's Business Information Services (BIS) division to produce and expand multi-channel marketing to drive customer engagement.
"For 27 years now, the CIO 100 awards have honored the innovative use of technology to deliver genuine business value," said Maryfran Johnson, editor in chief of CIO magazine and events. "Our 2014 winners are an outstanding example of the transformative power of IT to drive everything from revenue growth to competitive advantage."
"By integrating marketing communications and information delivery, we've developed creative, customer-focused solutions designed to build strong customer relationships," said Grinnell Mutual CIO and Vice President of BIS Dennis Mehmen. "The new approach is a game-changer. Strategic collaboration has the ability to provide a company of our size a competitive advantage in a crowded marketplace."
For Grinnell Mutual, this collaboration has yielded Manage My Account, a policyholder account website (classic and mobile) along with social media platforms and numerous multi-channel campaigns and initiatives that focus on paperless, online, and active engagement with customers.
About the CIO 100
Recipients of this year's CIO 100 Award were selected through a three-step process. First, companies filled out an online application form detailing their innovative IT and business initiatives. Next, a team of external judges (many of them former CIOs) reviewed the applications in depth, looking for leading-edge IT practices and measurable results. Finally, CIO editors reviewed the judges' recommendations and selected the final 100.
Coverage of the 2014 CIO 100 Awards will be available online at CIO.com on August 1, 2014 and in the August 1st issue of CIO magazine.
About CIO:
CIO is the premier content and community resource for information technology executives and leaders thriving and prospering in this fast-paced era of IT transformation in the enterprise. The award-winning CIO portfolio – CIO.com, CIO magazine (launched in 1987), CIO executive programs, CIO strategic marketing solutions, CIO Forum on LinkedIn, CIO Executive Council and CIO primary research – provides business technology leaders with analysis and insight on information technology trends and a keen understanding of IT's role in achieving business goals. Additionally, CIO provides opportunities for IT solution providers to reach this executive IT audience. The CIO Executive Council is a professional organization of CIOs created to serve as an unbiased and trusted peer advisory group. CIO is published by IDG Enterprise, a subsidiary of International Data Group (IDG), the world's leading media, events, and research company. Company information is available at http://www.idgenterprise.com.
About Grinnell Mutual
Grinnell Mutual Reinsurance Company, in business since 1909, provides reinsurance for farm mutual insurance companies and property and casualty insurance products through more than 1,600 independent agents in 12 Midwestern states. Grinnell Mutual is the 123rd largest property-casualty insurance company in the United States and the largest primary reinsurer of farm mutual companies in North America.