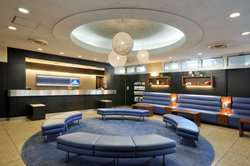 "Yokohama has always been Japan's gateway to the world, and has a rich history as an important Asian city for trade and commerce. Its proximity to Tokyo and excellent transport links make it extremely accessible," said Best Western VP, Glenn de Souza.
Phoenix (PRWEB) May 30, 2014
Best Western International has unveiled its first ever property in the thriving Japanese port city of Yokohama.
Coming just weeks after the launch of the Best Western's second hotel in neighboring Tokyo, the new BEST WESTERN Yokohama marks the company's continued expansion in the Greater Tokyo area, home to more than 35 million people.
"We are delighted to launch our first hotel in Yokohama - one of the world's most dynamic port cities," said Glenn de Souza, Best Western's Vice President of International Operations for Asia and the Middle East.
"Yokohama has always been Japan's gateway to the world, and has a rich history as an important Asian city for trade and commerce. Its proximity to Tokyo and excellent transport links make it extremely accessible, while attractions like the Yokohama Marine Tower, Yokohama Stadium and Chinatown make the city an excellent destination in its own right."
Located in the Tsurumi ward of Yokohama, close to the bay area and easily accessible from the JR Yokohama and JR Shinagawa stations, BEST WESTERN Yokohama is ideally positioned for business travelers.
The hotel's 185 rooms include single, double, twin and triple options, and all come equipped with international amenities including flat-screen TVs with satellite channels and complimentary Wi-Fi.
Yokohama is also becoming one of Japan's foremost conference and event destinations, and has hosted several major international conferences and events in recent years. These included the Asia Pacific Economic Cooperation (APEC) forum meetings in 2010, and this year Yokohama played host to the Intergovernmental Panel on Climate Change. BEST WESTERN Yokohama also caters to this market with a 1000 square feet of meeting room capable of hosting events of up to 60 delegates.
The recently opened BEST WESTERN Tokyo Nishikasai, located in eastern Tokyo's Edogawa Ward, is a contemporary midscale hotel offering modern amenities and excellent service for both business and leisure travelers.
Just a few minutes' walk from Nishi-Kasai Station, on the Tokyo Metro Tozai Line, the hotel offers easy access to the city's main commercial, retail and entertainment areas. It is also conveniently positioned between Tokyo Disneyland and the new Tokyo SkyTree – the world's second tallest structure – and provides free shuttle services to both outstanding attractions.
"With convenient links to Tokyo's main business district and excellent facilities for the corporate market, we expected this superb hotel to be extremely popular with Japanese business travelers. And connections to the lively retail and entertainment districts of Marunouchi and Ginza, as well as nearby attractions like Tokyo Disneyland, make BEST WESTERN Tokyo Nishikasai an excellent option for Tokyo's rising number of leisure visitors," Mr. de Souza said.
Set in a modern nine-storey building, BEST WESTERN Tokyo Nishikasai offers a choice of 184 contemporary guest rooms, all featuring flat-screen LED TVs and complimentary Wi-Fi. The hotel also features a restaurant serving Japanese and international dishes, and meeting space for up to 80 delegates.
Japan became Best Western International's first ever destination in Asia when the company launched its first hotel in the country more than a decade ago. Today, Best Western operates a collection of 17 hotels across 12 Japanese cities.
BEST WESTERN Tokyo Nishikasai will become the company's second opening in Tokyo, following the 206-room BEST WESTERN Shinjuku Astina Hotel.
Currently, Best Western has a portfolio of more than 200 hotels across Asia. And the company expects to increase its regional collection to 300 properties in the next few years. Best Western first launched in Asia & the Middle East in 2001 and now covers 27* countries in the region.
For more information on global development opportunities with Best Western International, please visit bestwesterndevelopers.com.
To learn more about a specific hotel or discover other Best Western hotels across the world, visit bestwestern.com.
###
ABOUT BEST WESTERN INTERNATIONAL, INC.
Best Western International, Inc., headquartered in Phoenix, Ariz., is a privately held hotel brand made up of more than 4,000* BEST WESTERN®, BEST WESTERN PLUS® and BEST WESTERN PREMIER® hotels in more than 100* countries and territories worldwide. Now celebrating 68 years of hospitality, Best Western welcomes hundreds of thousands of guests nightly. Best Western provides its hoteliers with global operational, sales, marketing and promotional support, and online and mobile booking capabilities. More than 20 million travelers are members of the brand's award-winning loyalty program Best Western Rewards®, one of the few programs in which members earn points that never expire and can be redeemed at any Best Western hotel worldwide. The brand's partnerships with AAA/CAA and Harley-Davidson® provide travelers with exciting ways to interact with the brand. In 2013, Best Western earned our highest level of brand recognition, including our fifth AAA/CAA Hotel Partner of the Year award, second Compuware Best of the Web Gold award, fourth No. 1 ranking in Brand Keys Consumer Loyalty Engagement Index for midscale hotels and seventh TTG Asia Best Mid-range Hotel Brand. Forty-one percent of Best Western hotels worldwide won TripAdvisor Certificates of Excellence for customer satisfaction.
For more information or to make a reservation, please visit bestwestern.com.
*Numbers are approximate and may fluctuate.