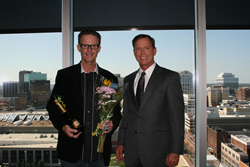 I am thrilled to have been nominated, and chosen, as the 2014 "Impressions in Print Leadership" Award recipient.
Virginia Beach, Virginia (PRWEB) May 31, 2014
The Hampton Roads Chamber, in partnership with the Small Business Development Center of Hampton Roads (SBDC), held its 30th annual Small Business of the Year Awards luncheon on Wednesday, May 21 at the Marriott Chesapeake. Nearly 300 people attended the event, which coincided with the U.S. Small Business Administration's National Small Business Week.
At this year's event Virginia Beach, Virginia native Kevin Neff, Owner/Creator of The KPN Group and Kevin Makes Sense™ brand, was honored with the "Impressions in Print Leadership Award". The award is presented to an individual demonstrating outstanding leadership within the Hampton Roads small business community. The leadership award winner will be selected based on leadership impact on workplace culture, community service and involvement, professional achievement, and perseverance. This award not only honors the men and women who stand at the forefront of the Hampton Roads small business community, but also the talented people they lead.
Winners were selected by a judging committee which included Caron Crouse, CPA, Dixon Hughes Goodman LLP; Joseph Donnelly, CPA, Donnelly Real Properties, LLP; Dr. Doris Gomez, Regent University's School of Business and Leadership; Nicole Harrell, Kaufman & Canoles; Dr. Stephen Lanivich, Old Dominion University; and Susan Long-Molnar, Managing Communications Consulting.
Kevin Neff is a business consulting and marketing maverick, who believes that "old school" is the "new school", and the customer you already have, is more valuable than the one you don't. Kevin is also an accomplished speaker and presenter, who has an uncanny ability to mentor, motivate, and educate, all in the same message.
Amongst his many accolades, Kevin has sat on the "President's Council of Bell Atlantic Yellow Pages", been a past "Distinguished Sales & Marketing Award Winner", and has earned the highly regarded title of SoT.
Kevin became a best-selling author with the book, "The Secret to Winning Big". The book was co-authored with Brian Tracy and made 5 best-seller lists on Amazon. He has also been named one of America's Premier Experts™.
In April 2014, Kevin was awarded with an EXPY® by the National Association of Experts, Writers, and Speakers in New York City. 2014 will continue to be busy as he will be releasing his new book, "Got One or Get One? The Business Lie That is Keeping You Broke!" as well as launching his, "Create Your Own Marketing Hot Rod" product.
###