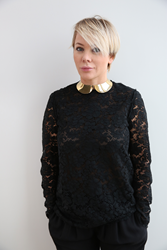 We not only help our clients avoid unnecessary expenditures, we create wardrobes that are assets to who they are.
New York, New York (PRWEB) May 31, 2014
Fashion IQ, the high fashion styling agency from Moscow, is giving a New York insider approach to shopping, dressing, dining, and socializing in the American fashion capital. While Fashion IQ is still offering their traditional styling services, including personal shopping, wardrobe cleansing and management, shopping by demand, and look consultations for special events, they have added something unique for their clients visiting New York City. Visit Fashion IQ on Instagram: http://instagram.com/fashioniq.
It is now possible for Fashion IQ's international clients to create customizable trips to New York for their individual needs. Not only are they able to meet their styling agendas in the city, they can receive special advice from Fashion IQ's lifestyle consultants about where to stay, reservations to dine at the best restaurants, invitations to exclusive events, recommendations for the best medical and aesthetic care, and fun outings tailored to the nature of their vacations.
The key to making a customer's experience invaluable is Fashion IQ's talented and attentive team. Fashion IQ has searched out the best talent in NYC for their in-house fashion and lifestyle consultants and brought their exclusive lists of star stylists with them as well. There is something for everyone, and Fashion IQ makes every appointment special for each client. The consultants at Fashion IQ work hard to understand each client's needs and only offer recommendations that fit within the client's specific budget.
Fashion IQ has created affordable hourly rates for in-house styling services, and for the clients that need more time, special memberships are offered to reduce costs. The agency's President and Creative Director, Masha Lopatova explains her motivation, "We opened Fashion IQ to educate people to pursue wardrobe orchestration as an investment, an investment in the artistic medium of style for personal expression. We not only help our clients avoid unnecessary expenditures, we create wardrobes that are assets to who they are."
Fashion IQ's mission is to help clients invest in one of the most important assets a person has, their personal image. As of Spring 2014, Fashion IQ is accepting inquiries into their services from both New Yorkers and clients with a desire to travel to New York for both shopping and lifestyle consulting.
For more information, visit: http://www.fashioniq.com or email: info(at)fashioniq(dot)com.