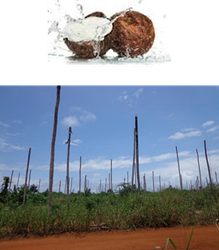 this outbreak will decimate the Ivorian coconut crop by 2020 if prompt actions are not take
(PRWEB) July 02, 2014
Sporometrics' Dr. Yaima Arocha-Rosete and her colleague's research on the phyotoplasma associated with a lethal disease in coconut palms in Cote d'Ivoire has just been published in the Canadian Journal of Plant Pathology. This emerging coconut lethal yellowing outbreak in Côte d'Ivoire, has been associated with a phytoplasma that destroyed circa one million coconut palms in the neighboring country of Ghana.
Symptoms of the devastating disease include leaf yellowing starting in the old leaves quickly moving to the young ones, drying then progressing to blackening of the whole flower cluster, rotting of heart, immature fruit drop, and crown death of the palm after six months of initial symptoms appearance leaving a scenery of bare trunks, typically known as "telephone poles". It is anticipated that this outbreak will decimate the Ivorian coconut crop by 2020 if prompt actions are not taken.
Coconut is considered the most important crop along the coastal belt of West Africa. Particularly in Côte d'Ivoire, coconut palm is cultivated on approximately 50,000 ha and produces an average of 55,000 tonnes of copra per year, which represents the main source of income for people living in the coastal region.
About Sporometrics:
Sporometrics Inc. is a privately owned Canadian company that provides contract research and microbiological testing services for environmental samples including air, fluids and solids. Since its inception in 1993, Sporometrics has been an industry leader in basic and applied scientific research on biomedical, industrial and environmental microbes.