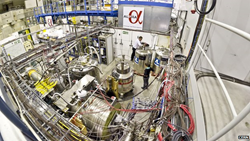 Organized interests on Einstein are excessively controlling scientific knowledge in an excessively unchecked way.
New York, N..y., (PRWEB) June 01, 2014
Pamela Fleming, spokesperson of The Institute for Basic Research, Palm Harbor, Florida, has released an open letter to the Directors of Cern laboratories in Geneva, Switzerland, containing unchallenged technical arguments showing that their ongoing test of the gravity of antimatter via alleged "anti-Hydrogen atoms" may be basically flawed, and requesting due scientific process on alternative more resolutory tests (http://www.i-b-r.org/G-Veneziano-denunciation.htm).
Prof. R. M. Santilli, a leading scientist on antimatter, has released the following outline of the unresolved insufficiencies of the ongoing gravity test at Cern:
"All studies in antimatter during the past century have been adapted to achieve compatibility with Einstein theories. However, these theories were conceived decades prior to the discovery of antiparticles; they have no means for the conjugation of neutral matter (such as an asteroid) into antimatter and, consequently, all current views on antimatter are personal opinions of their authors, rather than established science.
"Despite that, orthodox scientists claim that the possible discovery of antigravity between matter and antimatter would violate Einstein theories. Cern's gravity test of antimatter, besides being very expensive, is extremely complex, thus leading to results prone to possible manipulations to verify Einstein's theories. The test is based, first, on the production of alleged "anti-protons," then their capture of real antiparticles, the positrons, to form the alleged "anti-Hydrogen atoms," then their magnetic shielding against contact with matter, and then extremely sensitive measurements to ascertain whether the alleged "anti-Hydrogen atoms" move up or down under Earth's gravity.
"However, there are serious doubts as to whether the alleged "anti-protons" are true antiparticles. Firstly, their claimed production via high energy protons hitting a matter-target violates basic symmetries in physics. Secondly, particles-antiparticles are expected to annihilate entirely into photons without any emission of massive particles, while protons and the alleged "anti-protons" at Cern to annihilate into showers of particles in violation of a number of basic symmetries. Thirdly, it is possible that the claimed "anti-protons" are in reality the so-called "pseudo-protons" generated by suitable collisions of protons with two electrons. These "pseudo-protons" have the same characteristics of the "anti-protons," including the negative charge, but they are matter. Therefore, the "anti-Hydrogen atoms" created by "pseudo-protons" capturing positrons are mostly made up of matter, under which conditions gravitational attraction will be certain.
"Besides being extremely expensive, complex and ambiguous in the results, I am not saying that Cern's gravity test is wrong. No, I am saying that ethics and accountability in the use of large public funds, as well as vis-a-vis science, require Cern conducting additional comprehensive studies prior to serious gravity tests." (see the Appendix of http://www.santilli-foundation.org/docs/Antimatter-telescope-2013-final.pdf).
To outline a more resolutory test on the gravity of antimatter, we recall that in 1994 Prof. Santilli proposed a test for the measurement of the gravity of antiparticles which has been shown to be resolutory by independent experimentalists in the field. The test consists in the comparative measurement of the gravity of electrons and positrons in horizontal flight in a 10 meter long super-cooled and super-vacuum tube. When the energy of the electrons and positrons is very small (of the order of meV), the displacement due to gravity on a scintillator at the end of the tube is visible by the naked eye. Cern's gravity test with the claimed "anti-Hydrogen atoms" is dramatically more complex and expensive of Santilli's gravity test. Yet all proposals to Cern for due scientific process in Santilli's gravity test have been ignored without any technical argument at, thus leaving no other alternative than that of my open letter to Cern's Directors, in the hope of preventing a possible scientific obscurantism in antimatter that may last for centuries, let alone the possible misuse of billions of dollars of taxpayer money (see the presentation of Santilli gravity test by Dr. V. de Haan http://www.santilli-foundation.org/docs/Santilli-gravity-experiment.pdf).
Pamela Fleming
Spokesperson of
The Institute for Basic Research