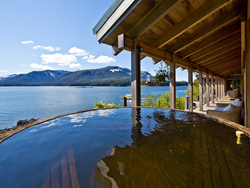 "It's like owning your own state in the State of Alaska," says Dean Jones, CEO of Realogics Sotheby's Int'l Realty. "This super-prime trophy property takes after a destination resort – after all it could be."
Southeast, AK (PRWEB) May 30, 2014
Executives at Realogics Sotheby's International Realty ("RISR") have announced the portfolio listing of Hidden Bay Retreat for $7.75 million, an custom summer home sited on more than 45 acres of waterfront property in Southeastern Alaska. Brokers confirm the offering will include all out buildings, furnishings and water craft including a custom Fitzroy-built, 50-foot aluminum fishing catamaran billed as the "ultimate fishing machine" by brokers. Commissioned in New Zealand at a cost exceeding $2 million, "Yellow Cat II" is propelled by twin water jets and is capable of speeds of more than 40 knots making world-class fishing or commuting to nearby services both comfortable and convenient.
"This is a matchless opportunity for a new owner to step into a matchless property requiring little more than a toothbrush, an appetite for adventure and plenty of family and friends to share the experience with," said Dean Jones, President and CEO of RSIR. "Our client spent many years creating this family retreat and custom building his boat as a labor of love. This offering affords the new owner an opportunity to acquire the entire lifestyle below replacement costs and with immediate gratification. For those that seek the ultimate in recreation off the grid, there may never be another portfolio like this anywhere in the world."
Jones refers to the significant logistics involved in building within remote locations serviced only by boat, float plane or helicopters. The fully-furnished, 2,382-sq. ft. chalet-style residence was constructed of Western Red Cedar milled from a purchased timber stand and can be self-sustained for up to six months. Sited upon nearly a kilometer of no-bank waterfront in Hood Bay on Admiralty Island located between Sitka and Juneau, AK – the land portfolio consists of eight fee-simple lots comprising more than 45 acres, which is surrounded by a US National Monument preserving the natural sanctuary forever.
"It's like owning your own state in the State of Alaska," adds Jones. "This super-prime trophy property takes after a destination resort – after all it could be."
Hidden Bay Retreat was designed with the potential for expansion with sufficient power production and water distribution to service multiple additional buildings, which could be prefabricated and barged in. On-site management resides within a separate cabin on the property, which will also be included in the portfolio.
Unlike the vast frozen State up north, the temperate Southeast "Panhandle" region of Alaska runs along the Northwest coastline of British Columbia, Canada and remains remarkably mild with average wintertime temperatures above freezing and summertime days long and comfortable. The waterways throughout the Inside Passage of this region rival the Mediterranean and the Caribbean for the most discerning of yachtsman and sailors alike. The Alaskan portion of the Inside Passage extends 500 miles (800 km) from north to south and 100 miles (160 km) from east to west. The area encompasses 1,000 islands, 15,000 miles (24,000 km) of shoreline and thousands of coves and bays. Known as the Alexander Archipelago, these waterways are mostly protected from the Pacific Ocean. In addition to thousands of serene bays for quiet moorage, the most popular destinations include the famous Glacier Bay National Park and Preserve, where the glacier meets the bay and icebergs are formed in dramatic fashion to the delight of onlookers.
Paradise found in the final frontier, Hidden Bay Retreat was voted online by Wall Street Journal viewers among "House of the Year" honorees in 2013. A video showcasing the property can be viewed at http://www.HiddenBayRetreat.com.
About Realogics Sotheby's International Realty: Artfully uniting extraordinary homes with extraordinary lives, Realogics Sotheby's International Realty is a leading marketing and sales brokerage in the Pacific Northwest with market coverage to Alaska. Recently recognized by the Puget Sound Business Journal among the fastest growing private companies in Washington State for 2013, the boutique real estate firm of approximately 100 brokers consistently ranks among the top producing firms within the markets that it serves. Visit http://www.RealogicsSothebysRealty.com.
EDITORS NOTE: Color photography of referenced individuals and properties are available upon request – please contact Andrea Savage at 206.448.5782 or email Andrea.Savage(at)SothebysRealty(dot)com.