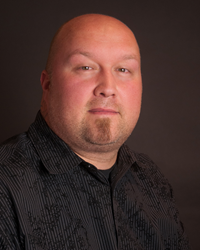 We have an industry-leading team in Background Screening.
Memphis TN (PRWEB) May 31, 2014
Data Facts, Inc-a leading provider of background and tenant screening solutions- announces that Systems Administrator, Damon Pike, received a Silver Medal Award for Applicant Tracking System (ATS) Integrations, at the TazWorks User Conference, held in May.
Damon has been a part of the Data Facts, Inc team since 2007 and moved into the Systems Administrator position in 2011. Pike works closely with Data Facts, Inc.'s vendor partners to develop and secure ATS Integrations, which help Data Facts' clients make sound hiring decisions.
Pike was modest about the award, and stated that, "Although I walked up and accepted the award, there is no way for any one individual to claim the prize when it comes to ATS Integrations. We have an industry-leading team in Background Screening and when it comes to showing value to companies that typically don't want to deal with a third party, it's easy when it's the Data Facts Team. Our growth is based on everyone's hard work!"
The Founder of TazWorks, Barton Taylor, is impressed with Damon's initiative. "Damon has championed a number of new ATS systems. If all of our clients had his initiative, we'd be connected everywhere! We appreciate Damon and everyone at Data Facts, Inc. for your continued support."
The award was presented to Damon at the TazWorks User Conference in Park City, Utah.
About TazWorks
TazWorks is a simple and intuitive enterprise-grade system that offers a variety of background screening services. Tazworks offers employment screening, student/intern screening, substance abuse testing, individual screening, tenant screening, business due diligence, volunteer screening, and FormI9 Compliance.
Instascreen™ background check software is reliable, secure, and user-friendly so that clients receive accurate data quickly in a format that's easy to understand. Learn more at http://www.tazworks.com.
About Data Facts, Inc
Since 1989, Data Facts, Inc has offered a comprehensive menu of services for pre-employment screening and reporting to support workforce safety and regulatory compliance.
Data Facts' background screening division includes but is not limited to employment, volunteer and student screening, assessment screening, drug testing, Infinity screening, and electronic I-9/everify. These solutions, along with our full suite of value added services, empower our clients to hire and retain the best possible employees.
Data Facts, Inc is one of only 2% of background screening companies that have achieved the gold standard of accreditation by the NAPBS.
Data Facts has offices located throughout the United States and serves a wide variety of customers within the United States and internationally. Data Facts is a 100% woman owned, diversified supplier.
Learn more at http://www.datafacts.com.