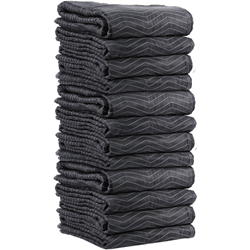 We truly believe in offering what the customer needs, so we listen closely to their suggestions and ideas.
Urbana, IA (PRWEB) May 30, 2014
Customized moving pads are among the latest made-to-order product options now available at US Cargo Control.
The company's growing Moving Supplies Division recently announced that its now offering its popular moving pad with a range of options, including company name, and choice of color, weight, fabric, and size. To qualify, a minimum of 150 dozen is required for order; lead time is typically 90 days.
Sarah Watson, Business Development Specialist in the Moving Supplies division says the new offerings follow the company's growing trend of offering custom options for its customers.
"While these pads are really geared toward our professional moving company customers, we are always willing to find solutions for any customer- large or small."
Watson says some recent examples include creating custom piano moving straps for a customer that wanted polyester webbing instead of the traditional cotton straps, and enhancing connector strap options for a moving dolly and e-track tie down rails.
"Having a manufacturing division in-house makes it ideal for us to be able to create custom tie down straps for our customers," says Watson.
In addition to offering made-to-order options, the business has always worked to expand its product line based on customer feedback, a trend that continues in 2014.
According to Watson, the company is currently in the process of adding more stretch wrap options, offering additional colors in its line of floor runners, and updating its popular appliance dolly with a kickback feature.
"We truly believe in offering what the customer needs, so we listen closely to their suggestions and ideas," says Watson. "We're grateful for the opportunity to be able to build relationships with our customers and gain their valuable feedback."
For more information on custom moving pads, customers can all the company's moving supplies sales team at 800-867-1210.
###
About US Cargo Control
US Cargo Control is a leader in cargo control industry, specializing in lifting slings, cargo control, rigging equipment and moving supplies. Focused on offering quality products, timely delivery, and outstanding service, customers can shop the company's entire line of products on http://www.uscargocontrol.com.