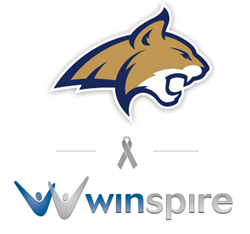 "What's great about Winspire is we didn't have to buy anything until we actually raised money with one of the trip packages."
Bozeman, MT (PRWEB) May 30, 2014
For the first time, the Montana State University Athletics Department held a "winner's choice" raffle with unique travel Experiences to fund their sports team budgets for the year. The grand prize of the raffle was the choice of one of five priceless Experiences provided by Winspire. Roughly 300 student athletes were asked to sell at least 10 raffle tickets for $10 a piece to friends, family and the rest of the student body. Ticket sales, which began in the fall, reached almost $32,000 as they were sold up until the evening of April 24th – the night of their Annual Athletic Awards Banquet in Petro Theatre.
"Each team has individual budgets," explains MSU Development Director Brent Montague, "this is a way for them – if they take advantage of it – to generate revenue for their individual programs."
The unique Experiences offered included getaways to Lake Tahoe, Napa Valley and Cabo San Lucas, as well as tickets and airfare to a variety of sporting and music events around the country. The raffle, which was set up to mirror ESPN's ESPY awards show, was streamed live over the web so parents and others who purchased tickets could watch the drawing. The winner – whose name was drawn out of a large bingo drum – chose the Lake Tahoe Weekend Getaway.
"What's great about Winspire," continues Montague, "is the fact that we can put something together – like this raffle – and had it just completely bombed, we wouldn't have had to actually purchase anything. Just like in a live or silent auction, we didn't have to buy anything until we actually raised money with one of the trip packages."
ABOUT MONTANA STATE UNIVERSITY
Montana State University is the university of choice for those seeking a student-centered learning environment distinguished by innovation and discovery in a Rocky Mountain setting. The State's land-grant institution educates students, creates knowledge and art, and serves communities, by integrating learning, discovery, and engagement. For more information, visit: http://www.msubobcats.com.
ABOUT WINSPIRE
Winspire provides unique once-in-a-lifetime travel Experiences for nonprofits to use in benefit auctions and other charity fundraising events. This increasingly popular fundraising tool allows organizations to place exclusive travel packages in their fundraisers without any upfront cost. Since organizations purchase only those packages they sell, Winspire Experiences can be used with no risk at live auctions, silent auctions, raffles and any number of fundraising events.
Since 2008, Winspire has been involved in more that 25,000 events and has helped raise over $30 million for charity with these experiences. More that 55,000 satisfied winning bidders have purchased and enjoyed Winspire packages, which include such Experiences as award shows, major sporting events, VIP access, family vacations, international trips, cruises and hundreds more. The Winspire Booking & Concierge Service provides winning bidders with a team of seasoned travel professionals to handle all travel related details and reservations for every Experience. For more information, please visit http://www.winspireme.com.