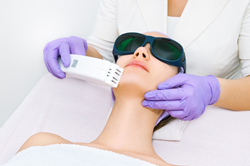 ILM's programs are designed to fully prepare you for an exciting career in the medical aesthetics industry, in just under a month.
Chicago, IL (PRWEB) May 30, 2014
The American Med Spa Association (AmSpa), in partnership with Institute for Laser Medicine (ILM), announces two additional locations in which students will be offered a flexible approach to classroom instruction and hands-on training on real clients. ILM has added training facilities in Tarrytown, NY and Mars, PA to their already well-known Spring House, PA location.
Students can choose whether they want a week of "in-house" theory at the Spring House location or they can take a new "online theory" course for the other locations. According to Rebecca Weston, one of the trainers for ILM, "Throughout the three weeks of theory, students will be given assignments, presentations to watch and quizzes given. This program allows them to work at their own convenience with extra time for assignment due dates. It is also interactive with the teachers and provides for any additional assistance necessary." A workbook is also provided.
Once the students complete and pass the "in-house" or "online theory" course, they will then begin their week of clinic and will jump right into working on real clients, with various types of equipment and modalities. Services covered during the clinic week are: laser & IPL, hair reduction, laser & IPL skin rejuvenation, laser skin resurfacing, radio frequency skin tightening and radio frequency body contouring. Students will also be given the opportunity to try the treatments as well (at no additional charge). Upon completion, students will receive 7 certificates for the above procedures.
The New York Clinic Week begins Monday, July 21st-Friday, July 25th and the Pittsburgh Clinic Week begins August 18th-August 22nd. There are also multiple Clinic Weeks available every month at their Spring House location. ILM provides the best environment possible so they limit class size. They typically book up well in advance, so be certain to call early. They also provide financing assistance.
For more information, go to: http://www.instituteforlasermedicine.com or call (215) 793-9999 #3