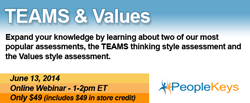 Identifying your thinking and values styles is an important step in gathering a complete understanding of what motivates you.
Boardman, Ohio (PRWEB) May 30, 2014
Most likely, it won't surprise you to learn that your personality can have a significant effect on your life. You might be astonished, however, by how far-reaching these effects can be. From major decisions such as the career you pursue to smaller decisions like how you dress or the kind of music you listen to, your unique personality can influence nearly every choice you make in your daily life.
If you're looking to better understand your personality, there are many different testing tools available that can give you a clear picture of your personality type. Tests like Myers-Briggs (MBTI) and DISC personality tests have long been used to help people categorize and understand their personal strengths, weaknesses, and patterns of behavior. However, researchers at PeopleKeys have recently come forward to say there are two central aspects of human behavior that must be considered in addition to personality type—Values Style and Thinking Style.
According to PeopleKeys, "Values Style" refers to a way of identifying the values systems that influence individual behavior. The degree to which we each prioritize values such loyalty, personal freedom, justice, and equality determine how we interact with the world around us. "Thinking Style" refers to the way that we process information. Everything from way that ideas are generated to approaches to problem-solving are determined by thinking style. Through identifying and understanding different ways of thinking and different priorities in terms of values, PeopleKeys believes that a more complete understanding of personality can be gained.
"There are hidden motivators behind everything we do," said PeopleKeys CEO Dr. Sandy Kulkin. "Identifying your thinking and values styles is an important step in gathering a complete understanding of what those motivators are. In so many ways, your values and thinking styles affect your perception of the world around you. They influence the choices you make, the friends you choose, the career you pursue, your leisure activities, how you function on a team, and even the words you say. In short, thinking and values styles determine how you live your life."
"For example," Kulkin continued, "look at team dynamics. We use the acronym 'TEAMS' to represent the roles that are best suited to each of the different thinking styles– theorist, executor, analyst, manager, and strategist. Through a simple test, we can determine which category a person falls into. By sharing those results, team members can understand the differences in everyone's thinking style, and they can see the strengths associated with each different type or thinker. This give teams a clearer perspective on how each person adds unique value to the group. It also helps team members assign personality-appropriate roles, and to approach differences in a nonjudgmental way. Understanding thinking style gives teams the ability to tackle any challenge that arises."
To make sure that personality testing gives a complete picture of an individual's behavior and psychology, Kulkin says we need to consider:

The degree in which individuals prefer analytical, structured, interpersonal or conceptual styles of thinking
How different modes of thinking affect team dynamics, idea generation, and problem-solving approaches
How understanding a person's values can provide insight into the hidden motivators that influence behavior
The ways the values of loyalty, equality, personal freedom, and justice impact an individual's perceptions, decisions, and actions
To help bring awareness to the important ways that complex thinking and values styles influence personality and behavior, PeopleKeys is offering a live streaming TEAMS and Values webinar on their website on June 13th at 1 pm EST. Access to the TEAMS and Values webinar is available to the general public for a cost of $49 dollars, and will be taught by master DISC coach John Schindell as a part of his "DISC for the Real World" training series. For more information about PeopleKeys, their personality testing and behavioral analysis tools, or to register for the June 13th TEAMS and Values webinar, visit our webiste.
About PeopleKeys
PeopleKeys has been providing tools to measure the connection between personality and human behavior for over 30 years. PeopleKeys believes that an understanding of human behavior can be used to improve relationships, streamline productivity, resolve conflict, and reduce stress. For more information about PeopleKeys and their DISC solutions, please contact Marketing Manager Kaitlyn Miller at 330-599-5580 x113.