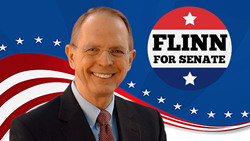 This scandal only further proves our government's inability to run a healthcare program. Like ObamaCare, the VA runs on numbers and not the best interest of the patient.
Memphis, TN (PRWEB) June 04, 2014
Veterans have spent their lives on lists. From the very moment of enlistment, their ranks, deployment time and even the final role call at a soldier's funeral, they are always on a list. Now, with the current condition of the VA hospitals, veterans will have to add themselves to yet another list – a waiting list.
U.S. Senatorial Candidate, George Flinn, recently reflected on the VA scandal, "If you've watched the news lately, you know that Washington has failed the needs of our veterans. The VA has delayed medical care and manipulated records to hide those delays causing the mistreatment of our vets, and even death. These incidents are happening nation-wide with three being right here in Tennessee."
Flinn stated, "This scandal only further proves our government's inability to run a healthcare program. Like ObamaCare, the VA runs on numbers and not the best interest of the patient. We have to pay close attention to the VA health care system because with ObamaCare being a government-run system, there will be identical effects on the rest of us."
George Flinn is running for United States Senate from the state of Tennessee on the sole platform to repeal and replace ObamaCare with what he says is a viable solution called the Patient Centered Health Plan. Flinn says, "This plan is an answer for both civilians and veterans. Based on principles like portability and competition, we can get rid of problems of employment based health policies and pre-existing conditions. The Patient Centered Health Plan can save you and this country money."
The media is filled with veterans' personal stories of neglect and abuse from the VA hospitals. Flinn says, "A simple resignation of anyone's position is not the answer. This country needs health care reform for all of us veterans and civilians alike more than ever. If Washington can't take care of our veterans, can it really take care of civilians with the same government controlled system?"