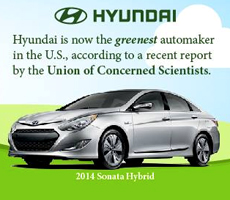 All we are trying to do at Hyundai is give our customers and the environment the lowest emissions possible.
Stillwater, OK (PRWEB) May 31, 2014
Hyundai Motor Company has quickly embraced the concept of downsizing engines, adopting electric hybrids and other anti-pollution techniques. These green initiatives proved to be helpful as they have dethroned Honda Motor Co. as the most environmentally-friendly automaker within the United States.
On average any car you buy from Barry Sanders Hyundai will be 43 percent cleaner for the environment than any car purchased before 1998. Companies are now racing to keep up with Hyundai's standards by meeting stricter greenhouse gas limits that have begun to step up for the 2025 plan that will nearly double the fuel efficiency of their models to 54.5 miles per gallon.
"All we are trying to do at Hyundai is give our customers and the environment the lowest emissions possible because that is what they deserve," said Barry Sanders Hyundai customer loyalty manager, Emily Taylor.
This is a great accomplishment for Hyundai Motor Co., because the Tokyo-based Honda has won this accolade in each of the previous five assessments and has been dominated by the three major Japanese automakers. Out of the eight major automotive companies that sell the most cars, all of them have successfully lowered their global-warming emissions. This is the first time that's happened since the year 2000.
The three big Detroit automakers- Ford, General Motors and Chrysler- were reported to be producing the highest vehicle emissions on the road. However, Hyundai was praised for their 'concerted effort' to increase fuel efficiency by downsizing engines, notably for the gasoline-electric models of the Hyundai Sonata.
Hyundai is constantly working to improve their fuel economy and is moving towards electrifying their model lineups. If this keep going this way and we suspect it will, Honda will need to step up their innovation techniques if they want to take the crown away from Hyundai.
If you are looking for the most fuel-efficient new or used vehicle on the road, stop by Barry Sanders Hyundai in Stillwater, Oklahoma or call us at 855-882-6036.