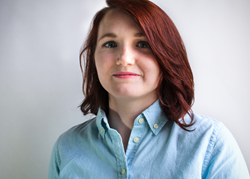 The three new employees exemplify our core vision, Inspired Imagination, and our overall MISSION; Create with Passion.
Charlotte, North Carolina (PRWEB) June 01, 2014
BURKE has been fortunate to have had significant new business growth the second quarter of 2014 and is pleased to announce three new full-time members have joined the team: Eloy Viteri, Caitlin Takos, and Suzanne Lynn.
"I'm excited that we have had the opportunity to hire very talented and highly skilled new team members in the Charlotte area. The three new employees exemplify our core vision, Inspired Imagination, and our overall MISSION; Create with Passion. They will help us stay focused with our goal of Discovering Significance in our work, employees and customers," says Jack Burke, CEO & Chief Creative Office.
Eloy Viteri is BURKE's brand-new Web Developer, and a member of the United States Marine Corps Reserve. He graduated with a Bachelor Degree in Software Information Systems and a Minor in Mathematics, from University of North Carolina at Charlotte. Eloy is a master at programming and coding language. He's impressed our seasoned web design veterans, and is exceeding client's expectations with his abilities. His skills and knowledge have already brought a new level of depth and creativity to BURKE's custom and mobile sites. Outside of work Eloy enjoys participating in Brazilian Jiu Jitsu and Swimming.
Caitlin Takos will take her place as our Marketing Specialist, coordinating and managing projects for BURKE along with existing clients: Anthony & Sylvan Pools, Doosan, Wishart Norris and new incoming clients. She received her Bachelor of Science degree from Canisius College and her MBA in marketing from University of Akron. She comes to us from InfoCision where she honed her project management and marketing skills as a Senior Account Representative. We are excited to have her as a new member of the accounts team at BURKE. She's taken on incorporating new SEO management tactics and has even set up an initiative for continuous education in this ever changing field. In her free time she enjoys walking her French bulldog, baking, kayaking, and boating with her family. The whole agency is waiting anxiously for her to bring in more unique baked goods.
Suzanne Lynn, BURKE's new Office Manager, has already brought a new level of organization to Burke. Her duties will include HR and Comptroller responsibilities and she's already started kicking Burke's green initiative into high gear. Suzanne has over a decade of progressively advanced accounting and fiscal skills with more than five years at a controller level. Suzanne graduated magna cum laude from UNCC and holds a MBA from Thunderbird School of Global Management. In her spare time, Suzanne can be found cycling around town and listening to live bands!
BURKE's clients are ecstatic that the agency has managed to snag some of the brightest talent in Charlotte. Their fresh perspectives and high-energy work ethic has invigorated BURKE and inspired new paperless initiatives, and a creative evolution within the web design, graphic design, and content management departments. "Our company will continue to make a creative impact in the Charlotte community as we grow," says Burke.
About BURKE
BURKE is a full-service creative design and development group experienced in branding and Internet marketing. Since 1991, BURKE has developed and implemented integrated communication solutions for regional, national and global businesses with advertising, design, video and Internet projects. The Charlotte Business Journal ranked BURKE as Charlotte's largest Web design firm and 13th largest advertising and marketing agency for 2012. They were also named No. 1 on The Mecklenburg Times' list of the 10 fastest-growing Web design agencies in Mecklenburg County, NC, and rated in the top 25 Best Places to Work in Charlotte for 2011. BURKE has also won numerous awards for its creative work including multiple ADDYs, Hermes Creative Award, MarcCom Design Awards, Telly Awards, and Traverse Web Design Awards. More information on BURKE can be found at http://www.burkecom.com.