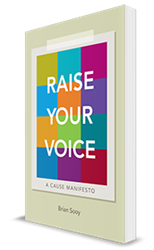 "An organization's distinct voice and personality reflect its goals, values, and contribution to the greater good," said Sooy. "Finding that voice and keeping it grounded in mission are essential to successful communication."
Elyria, Ohio (PRWEB) June 02, 2014
Mission-driven causes, nonprofit agencies and philanthropies have never had more options to get their message to potential supporters. From traditional media and direct mail to targeted email, blogging, social media and crowdfunding campaigns, opportunities to tell your organization's story abound.
But with an estimated 1.5 million nonprofits in the U.S. seeking support for their own meaningful causes, the challenge becomes finding a way to make your voice heard.
The answer, says designer and nonprofit communications expert Brian Sooy, author of the recently published "Raise Your Voice: A Cause Manifesto" (RockBench Publishing, 176 pages, ISBN 978-1605440293), is as simple as the adage of moms everywhere: be yourself.
"An organization's distinct voice and personality reflect its goals, values, and contribution to the greater good," said Sooy. "Finding that voice and keeping it grounded in mission are essential to successful communication."
The central premise of "Raise Your Voice" is that an organization can connect best with the public by communicating its values with clarity and consistency through its purpose, character, culture, and unique voice. Grounded in a dozen solid strategic principles, Sooy's work can help not only clarify organizational communication but also its mission—and align those two elements in a way that can produce powerful results.
"Raise Your Voice" draws upon Sooy's extensive experience as president of Aespire, a design and marketing communications agency that works with mission-driven organizations, nonprofits and foundations. A graduate of Ohio's Lorain County Community College and Bowling Green State University, Sooy has more than 30 years of experience in the field. He has published extensively and serves organizations across the country as a consultant, speaker and workshop presenter. He also holds volunteer and leadership positions with a variety of organizations.
Marty Neumeier, author of The Brand Gap, said that Sooy "brings clarity and structure to the challenge of branding a cause." Anyone with a responsible role within a nonprofit will find value in "Raise Your Voice"—directors, communication and development officers, and program managers as well as board members, volunteers, and even grant recipients.
For ordering information and additional background on the book, a blog dealing with topics of nonprofit communication and other helpful content, visit Sooy's website at Aespire.com.